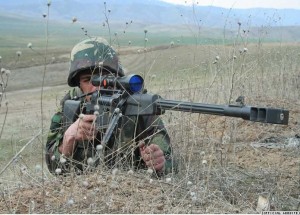 STEPANAKERT — One Azerbaijani soldier has been killed and two Armenian conscripts wounded in recent days in fresh skirmishes reported from the main Armenian-Azerbaijani "line of contact" around Nagorno-Karabakh.
Citing the Azerbaijani Defense Ministry, the Trend news agency reported that the soldier, Mamed Azadaliyev, was shot dead on Monday just northeast east of the disputed territory. The ministry said Azerbaijani troops deployed there came under fire from Armenian positions before "silencing the enemy."
The area has been the most volatile section of the frontline over the past year. More than a dozen soldiers from both sides have been killed since June.
There was no immediate reaction to the Azerbaijani report from the Armenian side.
Military authorities in Armenia and Nagorno-Karabakh reported earlier in the day that two Karabakh Armenian soldiers were wounded in other frontline sections on Friday. They said both men required hospitalization.
One of the servicemen, Vartan Harutiunian, remained in the intensive care unit of a military hospital in Stepanakert on Monday.
The Armenian Defense Ministry accused Azerbaijan of deliberately breaking the ceasefire to scuttle international efforts to resolve the Karabakh dispute. Ministry spokesman Davit Karapetian said Baku is also thus trying to boost spirits in the Azerbaijani military.
The skirmishes highlight the persisting risk of another Armenian-Azerbaijani war. Azerbaijan's leadership regularly threatens military action to win back Karabakh and Armenian-controlled territories surrounding it.