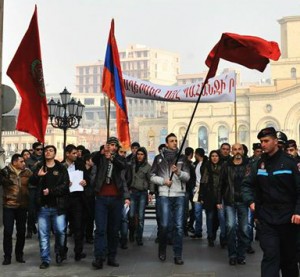 On January 26, 2015, the Social Democrat Hunchakian Party, "Sarkis Tkhruni" Youth and Student Union organized a protest in front of the RA Ministry of Foreign Affairs office, demanding the Minister take pro-active steps within the international community to counteract Azerbaijan's continued provocative activities against Armenia and Artsakh.
"Since the beginning of 2015, Azerbaijan continues its aggressive actions all along Tavush and Artsakh,. as a result, more than a dozen Armenian military personal have been killed this year alone." stated Roman Tsatinyan; Sarkis Tkhruni Board Member. "Yet, we have not seen the Foreign Ministry call on the representatives of the OSCE, Russia, France, or the US Ambassador, to discuss the gravity of the situation."
The protesters demanded the RA Foreign Minister Edward Nalbandian not to remain indifferent to ongoing ceasefire violations and make statements regarding the border tension.
After handing a corresponding letter for the Minister the group headed to the United Nations (UN) Office in Armenia, where they also handed a letter urging the UN to take action and prevent further military actions by Azerbaijan.