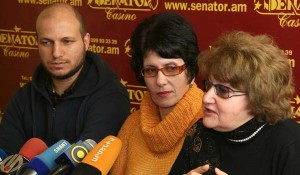 YEREVAN — Armenia's leading environment protection groups expressed serious concern on Monday over the possible launch of another large-scale mining project which they said would not only destroy more green spaces but also pollute a major Armenian town.
The Canadian-owned company Deno Gold Mining is reportedly planning to mine molybdenum and other non-ferrous metals just outside Kapan, the capital of the southeastern Syunik province bordering Iran.
Until now, the company's license has been for "closed" mining, a more expensive method, but one that reduces environmental risks.
Area residents worry, however, that the company will take to the more expedient means of using surface explosives, releasing harmful particles.
Local officials say it is ready to invest $50 million in developing the deposit, containing an estimated 12.4 million tons of metals, through open-pit operations. They admit that a part of the forests surrounding the town would be destroyed as a result.
In a recent interview with RFE/RL's Armenian service, Kapan's Mayor Atayan said at least 6,000 trees growing there would have to be cut down.
Environmentalists believe that that the real number would be much higher. Speaking at a joint news conference, they said open-pit operations would also inevitably involve emissions of heavy metals and other toxic substances into air, soil and water reservoirs.
"The project carries big risks for the health and lives of the local population," said Inga Zarafian, chairwoman of the Ecolur non-governmental organization.
Zarafian argued that the ecological situation in the area, which is home to several mines and ore-processing plants, is already alarming. Citing a past study commissioned by the Armenian National Academy of Sciences, she said the contamination level of local environment exceeds safety limits several-fold.
This has been taking a heavy toll on the health of Syunik residents, she said. "We have seen children with black teeth or no teeth at all," added the activist.
"We are losing Syunik. Very soon we will have no healthy residents left in that area," claimed Silva Adamian of the Public Ecological Alliance, a coalition of several dozen Armenian NGOs.
Adamian said the alliance plans to launch an appeal to Deno Gold Mining's Canadian parent company, Dundee Precious Metals, and even the government of Canada. It will also urge the European Bank for Reconstruction and Development not to finance the project.
The Armenian authorities have a long track record of usually siding with the domestic mining industry, mostly dominated by foreign investors, in its disputes with environment protection groups.