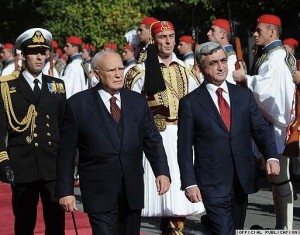 ATHENS — Presidents Karolos Papoulias of Greece and Serzh Sarkisian of Armenia strongly criticized Turkey as they met in Athens on Tuesday.
Papoulias told Sarkisian that the two nations were "butchered" by their common arch-foe in their past. "We were butchered by the same barbarian," he said, according to the AFP news agency.
Papoulias added that "many things have changed" since the early 20th century when the killings of Armenians and Black Sea Greeks in the Ottoman Empire occurred, and criticized a decades-old arms race with Ankara that has cost Athens billions of euros.
"If we did not have the economic burden of arms balance we would not need the International Monetary Fund," 81-year-old Papoulias said. "We give the most money in NATO for armament, this is unfair for a people that is peaceful," he added.
Sarkisian, for his part, again blamed Ankara for the collapse of the Western-backed Turkish-Armenian agreements that envisaged the normalization of bilateral ties.
He also said Athens and Yerevan support Turkey's membership in the European Union so long as it addresses its troubled past and forges "civilized partnership with neighbors." "When Turkey meets European standards, we will have a more predictable neighbor," he said.
One of the agreements signed during Sarkisian's trip to Athens calls for continued cooperation between the Armenian and Greek defense ministries. Sarkisian stressed the importance of that agreement at his joint news conference with Papoulias.