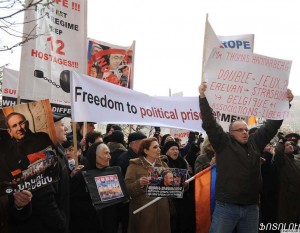 YEREVAN — Thomas Hammarberg, the Council of Europe's commissioner for human rights, expressed concern about the continuing imprisonment of Armenian opposition members on Tuesday as he began a fact-finding visit to Yerevan.
Hammarberg held separate meetings with Defense Minister Seyran Ohanian, opposition leader Levon Ter-Petrosian, human rights campaigners and representatives of Armenia's leading media associations on the first day of the three-day trip. He is also scheduled to meet with President Serzh Sarkisian, other senior government officials and leaders of the political parties represented in the Armenian parliament.
The discussions were expected to focus on the Armenian authorities' human rights record and, in particular, their compliance with resolutions adopted by the Council of Europe's Parliamentary Assembly (PACE) following their 2008 post-election crackdown on the Ter-Petrosian-led opposition. The PACE demanded the release of all oppositionists arrested on "seemingly artificial or politically motivated charges" and an objective inquiry into the March 2008 deadly clashes in Yerevan.
"Of course, I think it's a problem that there are still people imprisoned because of what happened in March 2008," Hammarberg told RFE/RL's Armenian service, referring to about a dozen Ter-Petrosian loyalists remaining behind bars.
Hammarberg planned to meet some of those oppositionists as well as relatives of people killed during the unrest. "We are concerned about the fact that ten people were killed during the demonstrations and so far no one has been held to account for that," he said.
Several dozen supporters of Ter-Petrosian's Armenian National Congress (HAK) demonstrated outside a Yerevan hotel where the Council of Europe official spoke with local human rights activists. Holding banners and chanting "Freedom!" they demanded that the Council of Europe exert stronger pressure on Yerevan.
"We want our brother Hammarberg, if he is our brother, to demand legitimate governance from these authorities in accordance with principles accepted in Europe," said one protester.
Ter-Petrosian has repeatedly accused the Council of Europe and the West in general of turning a blind eye to human rights abuses in Armenia for geopolitical reasons. He has said Western powers do not want to undercut a government which they hope will solve Armenia's disputes with Turkey and Azerbaijan.