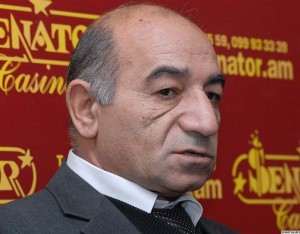 YEREVAN — Ashot Martirosian Chairman of Armenia's Nuclear Safety Regulatory Committee stated today that weapons-grade uranium, as recently reported to have been smuggled into Georgia from Armenia, has never been available in Armenia.
Martirosian was unable to answer how such material wound up in neighbouring Georgia. "How it got there or if it indeed ever got there, I can't say. We have no such information."
He stated that monitoring equipment to spot such material has been installed at border crossing points for many years now.
Two Armenians, Smbat Tonoyan and Hrant Ohanian, were arrested in Tbilisi last March on charges of smuggling 18 grams (0.6 ounces) of uranium from Armenia. They allegedly tried to sell it an undercover Georgian police agent posing as a Turkish Islamist radical. Both men reportedly pleaded guilty at their closed trial that began earlier this month.
Garik Dadayan, another Armenian man who allegedly provided the uranium sample to Tonoyan and Ohanian, was arrested by Armenia's National Security Service (NSS) in April. The NSS said last week that he was charged under an article of the Armenian Criminal Code that deals with nuclear material smuggling.
The smuggled uranium is said to have originated in the Russian city of Novosibirsk.
Martirosian did not deny the fact that the Metzamor plant uses Russian fuel.
When asked by reporters how the smuggling incident would impact on Armenia's reputation overseas, Martirosian answered that there would be no negative fallout since Armenia possesses no such nuclear material.
He refuted allegations that the uranium might have come from Metzamor. "There is no such heavily enriched uranium in Armenia," Martirosian told a news conference. "Nuclear fuel used at the Armenian nuclear plant is of three types: 1.6 percent, 2.4 percent and 3.6 percent [enriched uranium.] That is the most enriched uranium existing in Armenia."
"All radioactive materials in Armenia, from the nuclear plant's fuel to several micrograms of nuclear materials used by various organizations, are under the control of our agency and the International Atomic Energy Agency," said the official.