LYON — The Armenian Genocide Memorial and the National Armenian Memorial Centre in Décines, France, were desecrated on Sunday, with yellow spray paint inscription of the initials of Turkish President Recap Tayyip Erdogan and signed by the Turkish far-right militant group Grey Wolves.
The CDCA and the House of Armenian Culture in Décines and surrounding areas have filed a lawsuit with the Lyon prosecutor's office for "desecration of monuments dedicated to the memory of the dead," said their lawyer, Nairi Zandourian. "It's horrible what is happening in Nagorno-Karabakh and this war is spreading to France, we have to put an end to it," she added.
The CDCA said in a statement that the desecration "is part of a series of events aimed at terrorizing and intimidating French citizens of Armenian descent."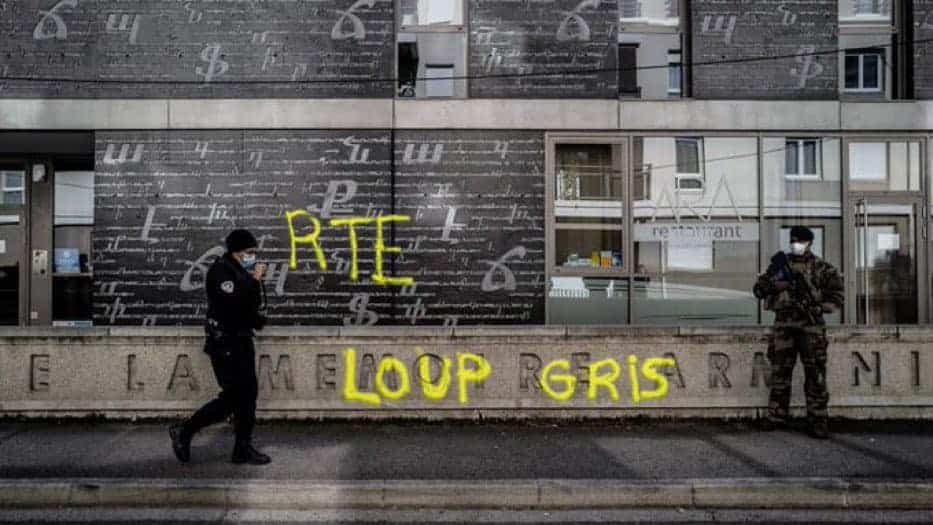 Hate speech against Armenians has surged amid the ongoing hostilities in Karabakh, with Turks and Azerbaijanis declaring what they call "a hunt of Armenians" and threatening them. For example, a group of Turks in France attacked Armenians rallying to protest Azerbaijan's aggression against Nagorno-Karabakh, and injured two of the rally-goers with hammers on October 28.
The Mayor of Decines-Charpieu, Laurence Fautra, announced that soldiers were expected in the area to take over the security of the buildings. "We hope (that a statement will be issued) by the Turkish consul in Lyon and that he will send a message of peace," she added.