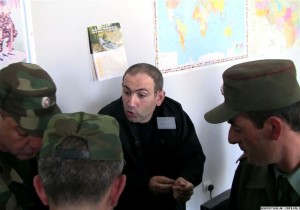 YEREVAN — Nikol Pashinian, jailed opposition leader and newspaper editor, has been placed in solitary confinement after claiming to have been assaulted at the Kosh prison near Yerevan, it emerged on Tuesday.
Pashinian alleged last week that two masked men woke and hit him overnight. Both the prison administration and a the Armenian Justice Ministry strongly denied that.
Pashinian told RFE/RL's Armenian service that the administration offered to move him into a solitary cell for security reasons. "I agreed on the condition that it does not affect my [imprisonment] regime," he said, adding that prison officials guaranteed his continued "normal communication with the outside world."
"The prison administration has broken that pledge. I am now isolated and kept under a stricter regime," said the editor of the pro-opposition "Haykakan Zhamanak" daily.
But according to a Justice Ministry department managing Armenia's prisons, Pashinian himself wanted to be in solitary confinement "for security considerations." Department spokesman Arsen Babayan also insisted that he is able to leave his cell and make phone calls.
Pashinian was able to briefly speak to RFE/RL during a court hearing held at Kosh on his lawsuit lodged against Armenian prison authorities. He believes that they want to illegally prolong his imprisonment by five months.
Pashinian was sentenced early this year to seven years in prison for his role in the 2008 post-election unrest in Yerevan, a sentence both he and the Armenian opposition consider politically motivated. A general amnesty declared by the authorities last year means that he will have to serve only half of that sentence.
The authorities say Pashinian will walk free in June 2013. The outspoken oppositionist, who surrendered to the police in July 2009, argues that they failed to take into account the time he spent in pre-trial detention.