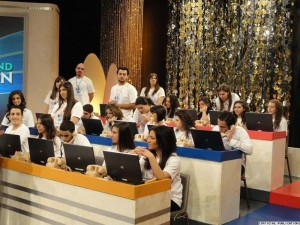 HOLLYWOOD, CA — Armenia Fund has successfully concluded its 13th International Telethon by raising yet another record breaking $20.8 million in pledges. The live 12 hour show aired from KCET Hollywood Studios and reached millions of households globally.
The live program featured a rich presentation of Armenian music and entertainment, as well as celebrities, political and community leaders, and long time Armenia Fund supporters and donors.
The Telethon culminates Armenia Fund's global fundraising campaigns that included Phone-a-thons, gala dinners, and benefit concerts, as well as the annual benefit gala held in Moscow which raised $8 million and the 11th Pan-European Phone-a-thon held in Paris which raised another $1.8 million.
Armenia Fundntends to use the bulk of the funds for refurbishing drinking water and irrigation networks in villages across Karabakh. The rest of the money is to be spent on other infrastructure projects in the disputed region and border villages in Armenia proper.
Karabakh has been the main beneficiary of such assistance ever since the fund's establishment in 1992. Some $15 million raised by it late last year was mostly channeled into the reconstruction of the war-ravaged town of Shushi.