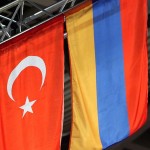 Armenia and Turkey have held no fresh negotiations since the effective collapse of their normalization agreements, Foreign Minister Edward Nalbandian insisted on Wednesday, denying statements to the contrary attributed to his Turkish and Swiss counterparts.
"There have been no phone conversations or meetings with the Turkish side in recent months, and no such things are planned for the near future," Nalbandian told parliament during its regular question-and-answer session with the Armenian government.
"As Armenia has officially stated before, it will be possible to move forward only when Turkey is again ready for a normalization of our relations without preconditions," he said.
Foreign Minister Micheline Calmy-Rey of Switzerland, which has acted as a facilitator in the Turkish-Armenian fence-mending negotiations, reportedly said last week that Ankara and Yerevan are currently holding "active consultations" over ways of kick-starting their stalled rapprochement. "Switzerland is determined to move the process forward," she told Armenia's visiting parliament speaker Hovik Abrahamian, according to the latter's press office.
Turkish Foreign Minister Ahmet Davutoglu likewise told journalists in Ankara on Monday that the Turkish-Armenian dialogue "never stopped." He pointed to his talks with Calmy-Rey held in New York on the sidelines of the UN General Assembly late last month.