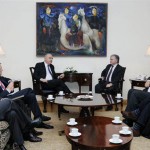 The OSCE Minsk Group Co-Chairs – Robert Bradtke, Igor Popov and Bernard Fassier – as well as Personal Representative of the OSCE Chairman-in-Office, Ambassador Andrzej Kasprzyk, who arrived in Yerevan as part of their regional visit, held a meeting with Armenian Foreign Minister Edward Nalbandian, October 6. They informed the Armenian FM of their discussions in Azerbaijan and of the schedule of their forthcoming field mission in the territories neighboring on Nagorno-Karabakh.
Minister Nalbandian expressed his indignation to the Co-Chairs over the murder of the Armenian shepherd in an Azerbaijani prison. Minister Nalbandian stressed that ICRC representatives were not allowed to visit the Armenian prisoner for 25 days.
Nalbandian stressed that the Azeri authorities' style is typical of terrorists and does not facilitate the negotiation process.
The sides discussed further steps and negotiations on the basis of Madrid principles.