BURBANK — A sold out crowd of over 350 people attended the 4th Annual Summer Night at the Turpanjian Plaza on Thursday, August 25, 2016. Presided by His Eminence Archbishop Hovnan Derderian, Primate of the Western Diocese, the festive outdoor event was organized by Ladies Guild of St. Leon Armenian Cathedral chaired by Araxie Boyamian.
The evening's honorees, included a group of Armenian singers "Living legends" in their own right, who opened new doors to generations of Armenian singers. They became pioneers of the Armenian folk Estradayin music in their respective communities.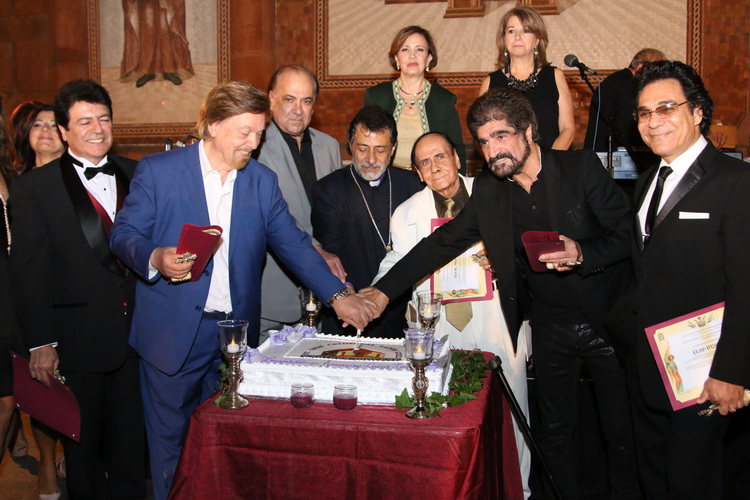 Special Award recognitions were presented to Adiss Harmandian, Harout Pamboukjian, Hovig Krikorian, Andy Madadian, Maxim Panossian and Levon Katerjian by Archbishop Hovnan Derderian. The Primate congratulated the Honorees as well as Lou Varoujan, the musical Artistic Director, for their contributions to Armenian music in the Diaspora. His Eminence presented a cross to each singer as a token of his appreciation and wished them continued success in their musical careers.
Words of gratitude were delivered by Araxie Boyamian, Chairlady of St. Leon Cathedral Ladies Guild who expressed appreciation to the guests for their attendance and support.
Mrs. Boyamian thanked Mrs. Sybille Aprahamian for her generosity and continued support of the mission of the Ladies Guild. The Chairlady thanked all donors including Mrs. Naz Atikian for the beautiful centerpieces and Sarkis Pastry for the commemorative cake.
In his closing message the Primate expressed heartfelt thanks to members of Ladies Guild for their relentless efforts and dedication to ensure yet another successful Diocesan function.
The Masters of Ceremonies Vania Vartzbedian Gordian, introduced the artists who sang nostalgic songs from their famous repertoires. The guests enjoyed Armenian popular music as well as the gourmet buffet catered by La Fogata.
The proceeds from the event will be allocated toward the Stewardship Fund of the Western Diocese for clergy education.