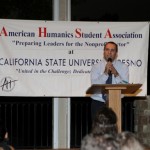 FRESNO, CA — Thousands of years ago, the Greeks coined the word "philanthropy," which translates literally to "loving humanity." In celebration of this timeless ideal, and in conjunction with the year-long events marking Fresno State's centennial, the American Humanics (AH) Program at California State University, Fresno marked 10 years of preparing community leaders and advancing philanthropy in Central California with its Decade of Dedication gala, on August 20, 2010, at Wolf Lakes Park in Sanger.
The gala recognized Dr. Matthew Ari Jendian and 10 additional individuals who significantly contributed to the establishment and development of the American Humanics Program at Fresno State— including Sofia Fellez-Huerta, Chris Fiorentino, Dan Griffin, Kate Henry, Ashley Howard, Jackie Ryle, Charles Sherwood, Don Simmons, Roberto Vaca, and University President John Welty—while highlighting the achievements of its students over the past decade.
Guests were treated to an elegant evening of great food and wine, excellent company, Middle Eastern music by Richard Hagopian and Allan Jendian, and a fantastic program, including a keynote presentation by Dr. Robert Long, former Vice President for Programs at the W.K. Kellogg Foundation. Proceeds from this event support the community-engaged projects of the American Humanics Program, which provide students with invaluable experiences with community benefit organizations while cultivating the spirit of philanthropy in the Valley.
Matthew Ari Jendian, PH.D.
Dr. Jendian is founding director of the American Humanics Program at Fresno State and serves as a tenured Associate Professor and Chair of Sociology. He was born and raised in Fresno and earned his Ph.D. from USC (2001), a baccalaureate degree in sociology (1991) and minor degrees in psychology and Armenian Studies from Fresno State. He authored Becoming American, Remaining Ethnic and was honored in Menk, an encyclopedia of biographies of prominent Armenian scholars.
Professor Jendian has served as national chair of the AH Directors Association for the past three years and is a recipient of several honors, including the 2007 "Social Action Award" from Temple Beth Israel, the 2007 "Amigo Award" presentation by the Vida en El Valle to "a non-Latino individual that has worked tirelessly on behalf of the Latino community," and the 2008 "Provost Award for Faculty Service." He was nominated for the 2009 California Campus Compact Cone Award for Excellence & Leadership in Cultivating Community Partnerships and has written and received national and federal grants to develop curricula that engage university students in capacity-building work with Community Benefit Organizations (CBOs) in Central California.
Dr. Jendian has served as a board member for several CBOs, including American Humanics, Inc., Fresno Nonprofit Advancement Council, Fresno Housing Alliance, and Relational Culture Institute, and as external evaluator with local and multinational CBOs, including Porterville College and the Armenian General Benevolent Union.
Jendian, an ordained Deacon of the Armenian Church, and his wife Pamela, reside in Clovis with their sons Joshua and Nicholas.
American Humanics at Fresno State
The American Humanics (AH) Program at California State University, Fresno is a certificate program offering students specialized training in management and leadership of community benefit organizations. The American Humanics Program works with hundreds of CBOs in the Central San Joaquin Valley to prepare students and community members to strengthen and lead these organizations.
More than 150 students have provided Campus and Community Organizations with grant research and writing assistance, resulting in approximately $2.1 million in funding; and 107 students from 23 academic majors/disciplines have engaged in the Student Philanthropy Project, granting a total of $29,000 to 10 local Community Benefit Organizations.