PARIS — Armenian Prime Minister Nikol Pashinyan had a meeting today with US Assistant Secretary of State James O'Brien on the sidelines of the "6th Paris Peace Conference" in Paris, the government press service reported.
Pashinyan emphasized the role of the US in the Armenian-Azerbaijani peace process. The continuation of the peace process based on the principles agreed upon at the trilateral meetings held in Brussels on May 14 and July 15, 2023 was highlighted.
The Prime Minister touched upon the project of the Armenian Government "Crossroads of Peace" and added that the unblocking of the regional transport infrastructures should be based on the principles of sovereignty, jurisdiction, reciprocity and equality.
The problems of more than 100 thousand refugees from Nagorno-Karabakh as a result of Azerbaijan's ethnic cleansing policy, as well as the steps of the Armenian Government to overcome them were touched upon.
The assistance of the international community in solving the existing problems was emphasized.
Addressing the Silk Road international conference in late October in Tbilisi, Georgia Armenian PM Nikol Pashinyan unveiled the 'Crossroads of Peace' project, saying the South Caucasus region needs a stable peace, which is difficult to achieve without open roads.
"Open borders, economic, political, cultural ties are impossible without open roads. For this reason, our government has created and presents the 'Crossroads of Pace' project as an important part of the peace agenda," he said.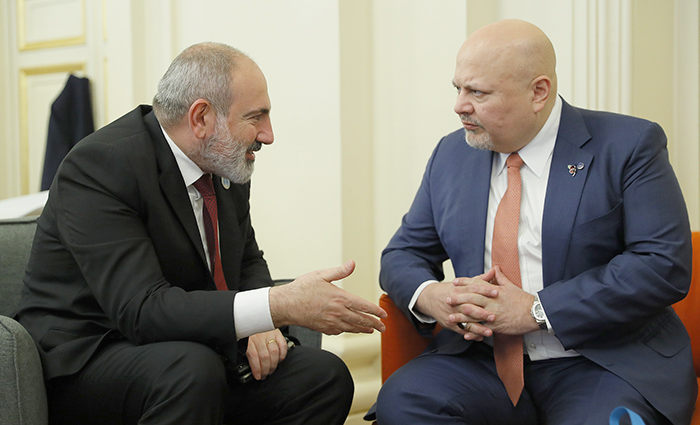 Pashinyan Meets with International Criminal Court Prosecutor Karim A. Khan
Prime Minister Nikol Pashinian met on Friday with the chief prosecutor of the International Criminal Court (ICC) Karim A. Khan  on the sidelines of  Paris Peace Conference held in the French capital..
Pashinyan's press office said he discussed with the British prosecutor "issues relating to international justice and law as well as other topics of mutual interest."