By Lilit Muradyan
"Radiolur"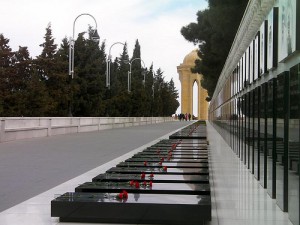 The world should know that murderers who killed Armenians are buried in the Shahid Alley of Baku, members of the organizational committee of the Armenian refugees from Azerbaijan told reporters today.
As part of the protocol, officials visiting Baku lay a wreath in the Shahid Alley or the graves of those killed for the sake of Azerbaijan's freedom and independence, as they call it. However, those buried at the Shahid Alley are the perpetrators of the Baku pogroms of 1990.
"We have decided to put an end to silence and send out letters to all countries, which Armenia has diplomatic relations with," committee secretary Mariam Avagyan told a press conference today.
"As you know, January 20 is marked in Azerbaijan as the commemoration day of all who died for the country's independence. All events are centered around the Shahid Alley, which is honored like a "sacred place". All delegations arriving in Azerbaijan are scheduled to visit and lay a wreath to the graves. But do all know who was buried in this Alley? These are some of criminals, who perpetrated the massacre of Armenians in Baku. There are also some Russians, who, actually, had no connection with those criminals. This is nothing but mockery of the memory of civilians and Soviet soldiers, who were killed during those days," the letter reads.
Members of the committee decided to send the first letter to Russia as the successor of the Soviet Union.
"We intend to launch an international investigation to dispel Baku's myths about Shahid Alley," Mariam Avagyan said. "We will address to the International Court of Justice," she said.