PASADENA — Professor Ümit Kurt presented a talk on "The Hunchakian Revolutionary Party in Aintab: Founders, Ideology and Structure" on Sept. 20th at the Garo Soghanalian Center in Pasadena.
The presentation was attended by a large group of diverse community leaders and members who were intrigued by the Professor's vast display of archival materials and his deep knowledge of the subject matter.
Massis Publishing Board Member Krikor Moloyan delivered the opening remarks and asked the audience to take a moment of silence in honor of our brothers and sisters in Artsakh.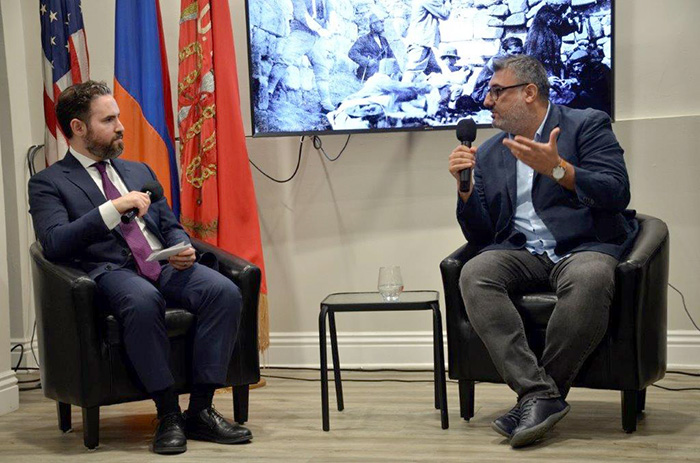 Mr. Moloyan read a brief biography of Prof. Kurt's accolades and recognized bodies of work prior to introducing him to the stage. At the outset, the Professor condemned Azerbaijan's ethnic cleansing of the indigenous Armenians of Artsakh which was met with applause. Prof. Kurt then delved into the SDHP's political activities in Aintab including its structure, key figures, and organizing capabilities.
Immediately following Professor Kurt's presentation, was an in-depth question and answer session, where audience members asked a variety of questions ranging from Professor Kurt's academic interests in Armenian Studies to his present-day experiences in Aintab.
At the small reception following the presentation, Krikor Moloyan commented, "The activities and history of the SDHP is an unexplored area of Armenian history and Massis Publishing aims to facilitate such academic research. We are excited about the community's enthusiasm and participation in Professor Kurt's stellar presentation and have lectures planned for the near future."