Prime Minister Nikol Pashinyan had a telephone conversation with Chancellor of the Federal Republic of Germany Olaf Scholz.
The interlocutors discussed the military-political situation created around Nagorno-Karabakh and the steps to overcome it.
The necessity of guaranteeing the security and rights of the people of Nagorno-Karabakh was emphasized.
The parties also referred to issues on the agenda of Armenian-German cooperation.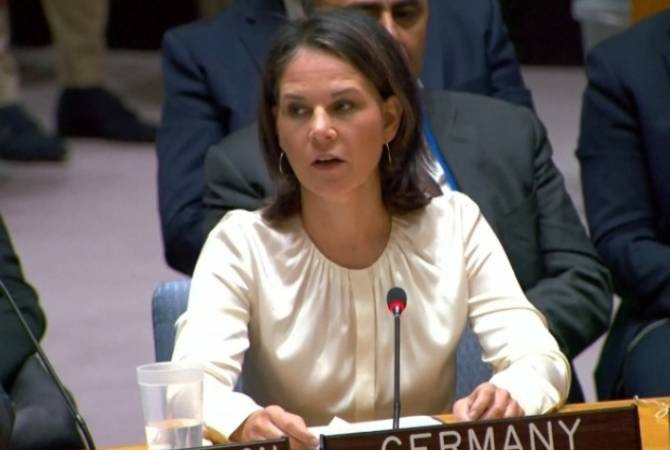 On Thursday, German Foreign Minister Annalena Baerbock firmly condemn Baku's military assault  on Karabakh during  the UN Security Council emergency meeting in New York.
"We have taken note of the reports of ceasefire, but what we need is complete cessation of violence, Azerbaijan carries the responsibility to reliably and fully protect the civilian population, especially children living in Nagorno Karabakh. A displacement and forced exodus of ethnic Armenians from Karabakh are not acceptable," she said.
The Foreign Minister reiterated that the territorial integrity and sovereignty of both Armenia and Azerbaijan must not be questioned.
"It's hard to imagine the hardship that children, women and men of Nagorno Karabakh have been enduring for months after the Baku authorities closed the Lachin corridor. The population of Nagorno Karabakh deserves to live in security and to have their rights protected," the Minister said.
"Keeping the Lachin corridor open is crucial for humanitarian reasons, but also because it provides and cultural and social bridge for ethnic Armenians living in Karabakh. Baku and Karabakh Armenians need to return to a dialogue. This conflict, since its beginning over 30 years ago, has produced too many victims. What we need, what the people in the region need is a lasting peace between Armenia and Azerbaijan. And that can only be achieved at the negotiation table," Annalena Baerbock stated.
She stressed that no country should use this situation ow to destabilize Armenia's democracy.