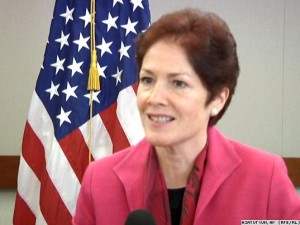 By Hakob Badalyan
The tenure of the U.S. Ambassador to Armenia Marie Yovanovitch overlapped with a crucial period in Armenia. When her nomination was affirmed in 2008, many people thought that from Kyrgyzstan where she was ambassador during the revolution she would bring along the so-called velvet revolution to Armenia.
The reason for this opinion was the affirmation of Marie Yovanovitch in a country which was undergoing a serious post-electoral crisis, with a government which was in a phase of illegitimacy, and a small spark would get the government blazing.
However, time passed, and the "introduction" of Kyrgyzstan's experience was being delayed. Moreover, Kyrgyzstan tried another revolution, while Armenia was waiting for the first one. However, the United States did not hurry and even started to support Serzh Sarkisian.
But now when we try to see how and when Marie Yovanovitch, the U.S. ambassador, came, and how and when she leaves, we can see that in the past three years something like a genuine revolution took place, which is invisible in the middle but if viewed from one end to another, it becomes obvious.
The U.S. ambassador arrived in Armenia in a period of tensions and crisis and is leaving Armenia in a period of tolerance and dialogue. The purpose is not to evaluate the dialogue, blame or mock the opposition or the government. This is another issue. In this case, the dramatic situation in the time of arrival and departure of Yovanovitch, the revolutionary contrast is important.
There are societies which want but cannot change. There are societies which can but do not want to change. There are societies which can and want to change but are lazy. And there are cases when they are unable to become a society in order to change.
In the past three years the American policy in Armenia seemed to be aimed at diagnosing this problem. We will not change unless we become a society. In this sense, in Armenia Marie Yovanovitch used the lesson of Kyrgyzstan rather than the experience of Kyrgyzstan. And on February 28 in a famous speech by Marie Yovanovitch at Yerevan State University there was tangible evidence to this.
To have a society, Armenia needs elite, ideological approaches, based on the awareness of law and rights. In the past three years the United States worked intensively with different representatives of the political elite. Marie Yovanovitch intensively met with different representatives of the political elite.
Perhaps the next U.S. ambassador to Armenia will get to the working stage of formation of the elite. Marie Yovanovitch conducted and concluded the advisory stage.