KORNIDZOR  –A delegation led by Sarah Arkin and Damian Murphy, representatives of the staff of the U.S. Senate Foreign Relations Committee, visited the site in Armenia's southern Syunik province where an Armenian truck convoy carrying humanitarian aid to Nagorno-Karabakh has been stranded for nearly two weeks. The delegation was sent by Senator Robert Menendez.
On August 7, Arkin and Murphy traveled to Syunik and Vayots Dzor to receive first-hand information about the security situation near the border. They met with EU Monitoring Mission Head Markus Ritter in Yeghegnadzor and with Syunik governor Robert Ghukasyan near Tegh where he briefed the delegation on the ongoing Lachin corridor blockage and the impact it has had on hundreds of separated families.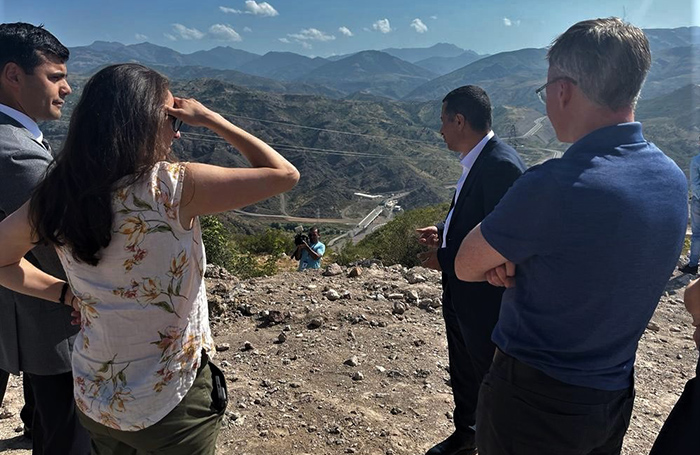 The delegation also visited the village of Kornidzor and witnessed the closed Lachin Corridor and absence of traffic.
The U.S. Senate representatives also inspected the Armenian humanitarian convoy which is unable to enter the Lachin Corridor and deliver emergency aid to the people of Nagorno-Karabakh.
A convoy of 19 Armenian trucks carrying emergency food aid to Nagorno-Karabakh was stopped on July 26 near Kornidzor at the approaches to an Azerbaijani checkpoint at the entrance to the Lachin corridor, the only road connecting Armenia with Nagorno-Karabakh. It now awaits approval to access the region that has seen severe shortages of basic foodstuffs and other essentials due to Azerbaijan's illegal blockade.
The United States, the European Union, Russia and other international actors have urged Azerbaijan to allow humanitarian supplies to Nagorno-Karabakh via the Lachin corridor. Azerbaijan's blockade of the Lachin corridor is a violation of the Moscow-brokered 2020 ceasefire agreement that placed the five-kilometer-wide strip of land connecting Nagorno-Karabakh with Armenia solely under the control of Russian peacekeepers.
So far the stranded Armenian aid convoy in Kornidzor has been visited by representatives of diplomatic corps and ambassadors accredited to Armenia, representatives of the United Nations office, as well as representatives of international NGOs.