STEPANAKERT — Thousands of people gathered on July 14 in Stepanakert, the capital of Nagorno-Karabakh, to protest the blockade by Azerbaijan of the Lachin Corridor and a worsening humanitarian crisis caused by it.
Karabakh's leadership and major political faction organized the protests one month after Baku further tightened the blockade by banning Russian peacekeepers from shipping limited amounts of food, medicine and fuel to Karabakh. On Tuesday, the Azerbaijani side also blocked the evacuation of seriously ill Karabakh patients to hospitals in Armenia carried out by the International Committee of the Red Cross (ICRC) through the Lachin corridor, only land link connecting Karabakh with Armenia.
The punitive measures aggravated the shortages of essential items in the Armenian-populated region which had already been rationing food, fuel and electricity since last December's disruption of commercial traffic through the corridor.
The Karabakh State Minister, Gurgen Nersisyan, described the situation there as "critical" when he addressed the sizable crowd in Stepanakert's central square. He said that Karabakh is running out of basic foodstuffs, life-saving drugs and even fuel reserved for ambulances. Nersisyan went on to urge Armenia, Russia and the international community to do more to make Azerbaijan lift the blockade.
"What are you waiting for?" he said. "Do you want us to put the bodies of dead people in this square every day before reacting?"
"Tell me, how should I look in eyes of … a malnourished pregnant woman whose child may be born with defects, mothers whose biggest dream is to find a handful of fruit or candy for their children, people who stand in lines for hours to get a handful of sugar or oil," Gegham Stepanyan, Karabakh's human rights ombudsman, said for his part.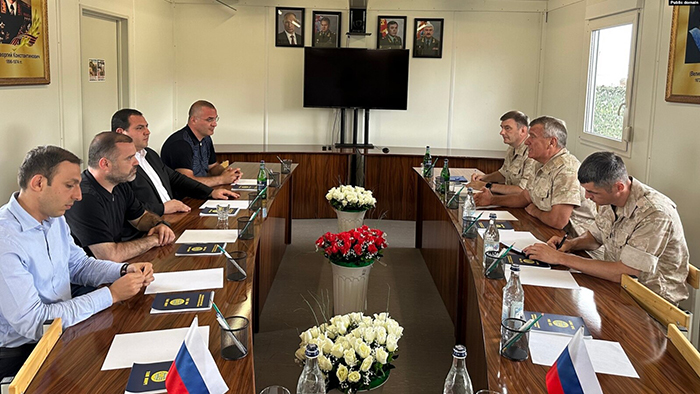 After gathering in Stepanakert's central Renaissance Square, demonstrators marched to the local International Red Cross office and then to the Russian peacekeepers' headquarters outside of the capital to demand that they fulfill their obligations, stipulated by the 2020 November 9 trilateral statement- to ensure a connection between Nagorno-Karabakh and Armenia, as well as the security of movement for persons, vehicles and cargo in both directions through the road.
Nersisyan and two other senior Karabakh officials were received by Alexander Lentsov, the commander of the peacekeepers. Nersisyan said afterwards that Lentsov pledged to do more to "resolve the situation" and "send information about the humanitarian crisis to the Russian Federation on a daily, hourly basis."
"This process is apolitical. Our further actions will be strictly organized and systematized, we will not allow politicizing this popular movement or using it to serve anyone's personal or political interests," Nersisyan told earlier.
In a widely shared video posted to Facebook Thursday evening, Nersisyan urged Nagorno-Karabakh residents to hold rallies every day until the blockade is lifted.
Other attendees at Friday's mass gathering included President Arayik Harutyunyan and Artur Tovmasyan, the speaker of Nagorno-Karabakh's parliament.