TEHRAN—Foreign Minister Ararat Mirzoyan discussed Armenia's ongoing peace talks with Azerbaijan and described the Islamic Republic as his country's "special partner" during a visit to Tehran on Monday.
The Armenian Foreign Ministry said Mirzoyan briefed Iranian President Ebrahim Raisi on the "latest developments in the process of normalization of Armenia-Azerbaijan relations" and reaffirmed the Armenian government's position on the "establishment of lasting peace in the South Caucasus." The issue also topped the agenda of his separate talks with Iranian Foreign Minister Hossein Amir-Abdollahian held earlier in the day. Mirzoyan complained about Azerbaijan's continuing blockade of Nagorno-Karabakh's only land link with Armenia, saying that it is hampering a peace deal currently being discussed by Baku and Yerevan.
"The Islamic Republic of Iran does not accept any geopolitical changes, changes in the borders of the countries in the region, and supports the sovereignty and territorial integrity of all the countries in the region," Ebrahim Raisi said, according to the press service of the President of Iran. Raisi also emphasized the importance of improving Armenian-Iranian relations and added that Tehran does not see any obstacles in this regard.
"Armenia's Foreign Minister Ararat Mirzoyan, assessing Iran's positions on the developments in the Caucasus region, stated that Armenia will never become a platform for anti-Iranian actions and always emphasizes the expansion of regional security and peace," said the official statement from the Iranian side.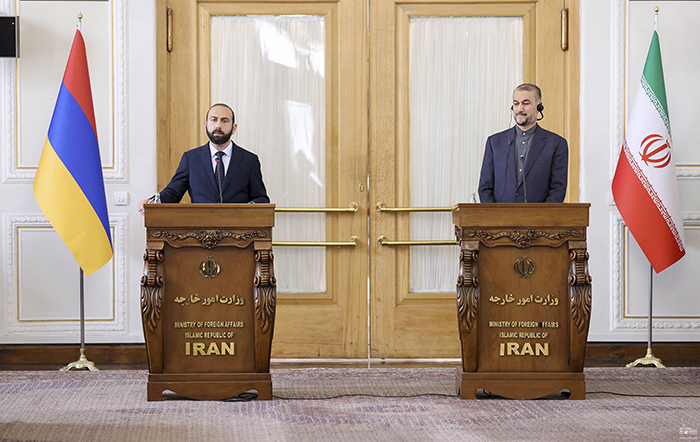 Mirzoyan praised Tehran's stance on the "inviolability of our state borders" during a joint news briefing with Amir-Abdollahian. "For us, Iran has always been and remains and will continue to be a special partner, including in overcoming the challenges in the current difficult conditions," he said.
"The South Caucasus region is of great importance for Iran," Amir-Abdollahian said during the press conference. "Iran welcomes the convergence between the countries of the region and the progress in the peace talks between Armenia and Azerbaijan," he added. "Iran is focused on establishing peace in the Caucasus region," he said, adding that his recent meeting with Azerbaijani President Aliyev, his meeting with the Prime Minister of Armenia in recent months, and today's meeting with the Foreign Minister of Armenia can be considered as Iran's endeavors to establish stable peace and security in the region. According to him, Tehran believes that peace and security among its neighbors correspond to the common interests of the countries in the region.