YEREVAN — Markus Ritter, Head of Mission of the European Union Mission in Armenia (EUMA), is in Syunik, on the road to the Lachin Corridor, and is monitoring the developments.
The convoy of vehicles organized by the government and loaded with humanitarian cargo for the people of Nagorno-Karabakh had arrived at the entrance to the Lachin Corridor, near the Hakari Bridge, when four vehicles of the European Union Monitoring Mission approached the convoy.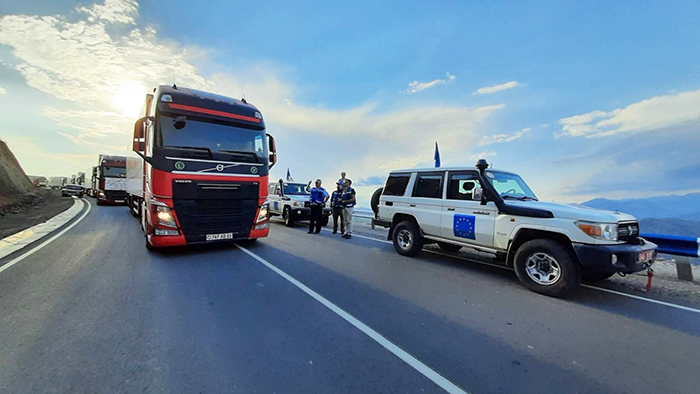 In an interview with ARMENPRESS, the Head of the EU observation mission in Armenia, Markus Ritter, stated that they are aware that the Armenian government wants to send humanitarian goods to Nagorno Karabakh.
"We have come here to Hakari Bridge to observe the course of events on the spot. Like you, we also do not know whether the Azerbaijani side will allow the vehicles loaded with humanitarian cargo to pass through the Lachin Corridor and enter Nagorno-Karabakh. Whatever happens, we will write about it in detail in our report," emphasized the head of the European Union observation mission.
He added that they have been monitoring the border of Armenia with Azerbaijan for a long time.
"We carry out exclusively civilian observations. We regularly visit the border settlements that are located in the immediate vicinity of the conflict zone. We report to Brussels about everything that happens here. We support the ongoing negotiations between Armenia and Azerbaijan and contribute to EU efforts in this direction. That is our main mission," he said.