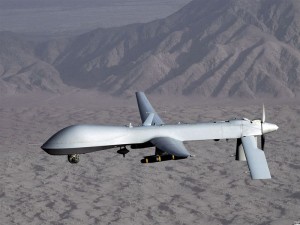 YEREVAN — Armenia manufactures and supplies its armed forces with unmanned military aircraft capable of flying deep into enemy territory, the deputy commander of the country's small air force said over the weekend.
"We have quite serious unmanned aerial vehicles (UAVs), even those capable of carrying out objectives deep inside enemy territory," Colonel Armen Mkrtchian told journalists. "They are made in Armenia."
"Having said that, we do not rule out the possibility of acquiring foreign-made ones, including for mere comparison," he said. "After all, you can tell apart good and bad things through comparison."
Mkrtchian refused to give any details of domestic drone manufacturing, which exists only in a limited number of countries. He would not say if Armenian-made UAVs are designed only for surveillance missions or air strikes as well.
That the Armenian military is equipped with domestically designed and manufactured drones has been claimed by some local defense analysts in the last few years. Mkrtchian's remarks are the first official confirmation of these assertions.
Armenia's arch-foe Azerbaijan is known to have UAVs. It purchased them from Israel until recently. An Azerbaijani-Israeli joint venture reportedly began assembling drones in Azerbaijan earlier this year.
Over the past decade Azerbaijan has also acquired dozens of conventional military aircraft as part of an ongoing military build-up. Its air force is now thought to have numerical superiority over its Armenian adversary.
Both Mkrtchian and Artsrun Hovannisian, an Armenian Defense Ministry expert, downplayed that advantage. They claimed that Baku's air capability is grossly inflated and that it would be of little use to the Azerbaijani army in case of another war for Nagorno-Karabakh.
Mkrtchian also said that the Armenian airforce has received "quite sophisticated and precise air strike means" that put it in a position to wage offensive warfare. "In the last 19 years, we have gone through a very difficult process of military training," he said. "Our pilots are today ready to carry out flights at night and in difficult meteorological conditions. They are ready for any actions in any place and at any moment."
"Just like developed NATO countries, we are ready to carry out targeted strikes on any enemy target, economic facility and the like," the official added without elaborating.