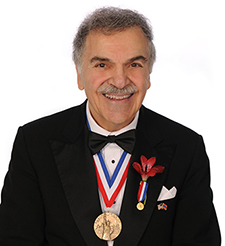 YEREVAN — On June 8, the American University of Armenia (AUA), in collaboration with the Armenian Missionary Association of America (AMAA), hosted a remembrance event celebrating the remarkable life and legacy of renowned benefactor Edward Avedisian.
The event opened with a documentary film depicting Avedisian's legacy and his benefactions to Armenia and the United States. A professional musician, who staunchly valued education throughout his life, Avedisian also had a proclivity for business, literature, and media. Particularly his interests in the world of finance led him to achieve some of his greatest accomplishments, which allowed him to become such a seminal pillar of AUA's growth as well as that of other educational institutions.
Avedisian dedicated his wealth to a myriad of important projects. Together with his wife, Pamela, he supported various AUA development programs, including the Paul Avedisian Center for Business Research and Development and the Zvart Avedisian Onanian Center for Health Services Research and Development. He was the major contributor to the construction of the AUA Paramaz Avedisian Building, completed in 2008 and named after his brother, and the pioneering sponsor of two Endowed Named Professorships — the Dr. Judson King Endowed Professorship and Dr. William Frazer Endowed Professorship — in honor of two former University of California provosts who served as chairs of the AUA Board of Trustees and played an instrumental role in the development of the University.
In 2008 and again in 2014, Avedisian was awarded the Movses Khorenatsi Medal, Armenia's highest cultural award presented by the president of the republic, for his contributions to education, culture, literature, and the arts. Two years later, his exceptional philanthropy was also recognized by the United States with the conferment of the prestigious Ellis Island Medal of Honor, an award granted to world renowned professors, U.S. Presidents, civil rights figures, philanthropists, and heads of states.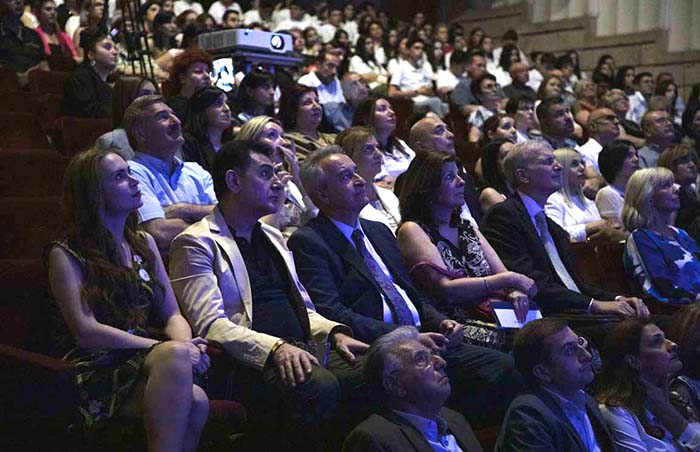 The screening of the documentary was followed by remarks from those who had the privilege of knowing Avedisian in person and collaborated with him on various undertakings. AUA Interim President Dr. Armen Der Kiureghian spoke about Avedisian's path and philanthropy, highlighting his enormous contributions to AUA which resulted in the growth of the University. "The American University of Armenia is fortunate to have had Edward Avedisian as a Board member, as a benefactor, and as a thoughtful supporter who facilitated major growth and advancement of the University. His legacy will always remain present in our University and in our minds and hearts," he concluded.
In his turn, Chair of the AUA Board of Trustees Dr. Lawrence Pitts shared, "Ed was a dream trustee: thoughtful, quiet, when he spoke, you listened carefully because he was a very, very wise trustee. He grew with AUA starting in 1999, so he was a trustee for 23 years — a long time. He saw the University evolve during that period of time. He participated in guiding the evolution of the University and in his mind, education was an investment in the country." In his speech, Dr. Pitts also underscored, "The philanthropy that Ed has engendered has not stopped. AUA recognizes that there is a lot that the University can provide for Armenia's future."
The floor then was given to AMAA Armenia representative Aren Deyirmenjian, who remarked, "While I had only met Ed once in person, it was visible that his stance on the matter of education being Armenia's best bet toward a bright future was uncompromising. And he backed up that belief with much more than just words. Perhaps more than any other person, Ed Avedisian was both a visionary and a doer."
AMAA Khoren and Shooshanig Avedisian School Principal Melanya Geghamyan highlighted Avedisian's significant role in founding the award-winning Khoren and Shooshanig Avedisian K-12 School, as well as the seven-building Community Center complex located in Yerevan's Malatia-Sebastia district. "Education was the highest value for Ed. During his talks with our school teachers, he emphasized many times that a true patriot must see the future of his country in an educated generation and must raise educated children for the nation," she remarked, highlighting that the Avedisian School is a true reflection of Avedisian's vision. Lusine Mnatsakanyan, Avedisian School graduate and AUA alumna (BAB '21, MSM '23), added, "Mr. Avedisian infected me with his vision of being a forward thinker, hard worker, and someone who strives to create a better future for Armenia."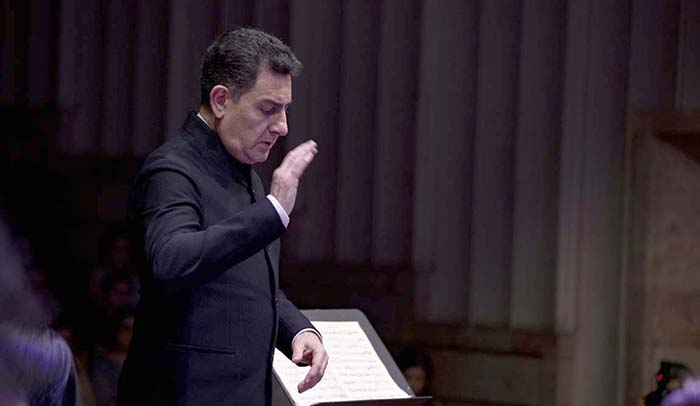 The remarks were followed by a musical performance by the Armenian National Philharmonic Orchestra. Directed by Conductor Eduard Topchjan and joined by solo clarinetist Arsen Grigoryan, the orchestra performed Mozart's Clarinet Concerto in A Major, K. 622.
Following the musical performance, President Dr. Armen Der Kiureghian introduced Pamela Avedisian and thanked her for her continuous commitment to AUA and to Armenia, and made a special announcement, "I am very pleased to inform you that the tradition of Avedisian philanthropy has not stopped with Ed's passing. Pamela has committed a very substantial donation toward the construction of Humanities and Social Sciences and Arts buildings on lands that we have acquired on the northside of our campus. This new contribution will allow us to vastly expand the physical capacity of our campus and develop new academic programs and facilities in the next few years. Pam, we are eternally grateful for your generosity."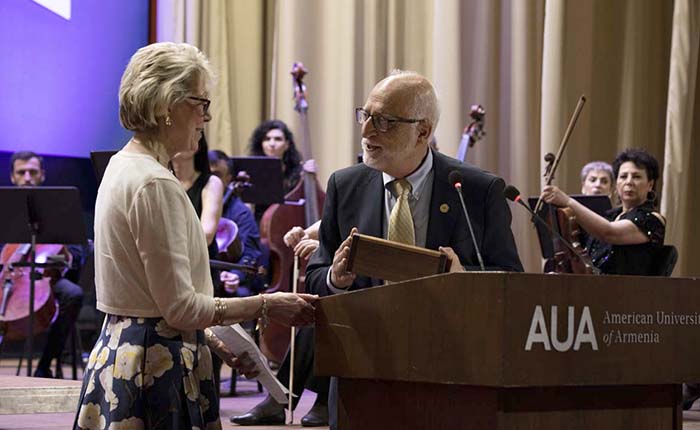 The event concluded with Pamela Avedisian's remarks, who thanked the organizers of the meaningful event and noted, "It is appropriate to celebrate Ed here in Armenia surrounded by all those at AUA and the Avedisian School and elsewhere who have been so impacted by his kindness and generosity. I'm doing my best to fill his extremely large shoes and look forward again to returning to Armenia and to AUA."
Ed Avedisian will be remembered as a symbol of kindness and modesty, who bestowed upon others the love of his heart and made contributions that have blessed and continue to bless people around the world.