GLENDALE — Arsen Danielian, Glendale attorney and civic leader, has been recognized by Pope Francis with one of the most prestigious honors bestowed by the Supreme Pontiff of the Catholic Church – The Papal Order of Knight Commander of Saint Sylvester.
Danielian, a founder and senior partner in the law firm of Danielian, LeCroy & Kolanjian, was awarded the Medal of the Order of Saint Sylvester on April 10 at St. Gregory Armenian Catholic Cathedral in Glendale. The medal was presented by Eparchial Bishop, His Excellency the Most Rev. Mikael Mouradian.
Named for Pope Saint Sylvester I, who served in the years 314-335 and remembered for his leadership during a critical period of the Church's history, the award symbolizes Danielian's "achievement and commitment to making a positive impact in the world." The knighthood honors laypersons recognized for their service to the Church and society.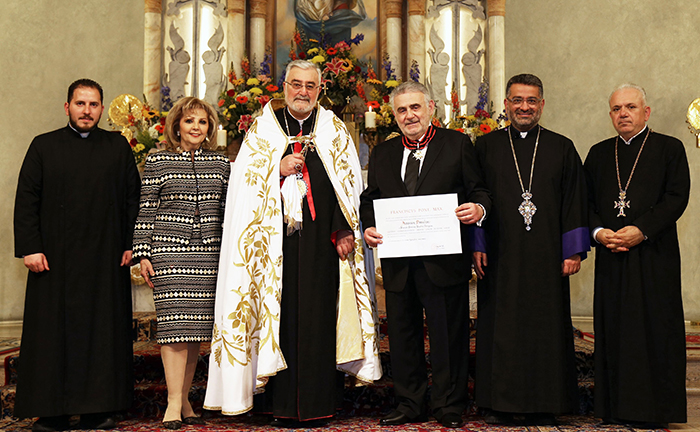 "I am deeply honored and ­humbled by the significance of this award, which is rooted in the history of the Catholic Church," Danielian said. "I wish to express my gratitude to Pope Francis for bestowing this honor upon me."
Born in Tehran, Iran, to an Armenian family, Danielian immigrated to the United States in 1979. He graduated with a J.D. degree from the University of La Verne in 1984 and practiced law in the Los Angeles area before becoming one of the founders of the firm Baker, Olson, LeCroy & Danielian in 1991. He currently serves on the Governing Board of Adventist Health Glendale and is past chair of the hospital's Healthcare Foundation.
Danielian and his wife, Hasmik, retired superintendent of the Norwalk-La Mirada Unified School District, reside in Glendale. They have two grown children, Alfred Danielian, M.D., cardiologist and director of Sports Cardiology and Echocardiography at Las Vegas Heart Associates, and Nyree Kolanjian, Esq., a partner in the law firm of Danielian, LeCroy & Kolanjian. They have six grandchildren.