YEREVAN — On January 26, the Aurora Humanitarian Initiative, in conjunction with the "Scholae Mundi Armenia" Charity Foundation and the American University of Armenia (AUA), hosted a workshop that brought together students and alumni who are current and past recipients of the Aurora Scholarship, as well as representatives from various humanitarian organizations. The keynote speaker was 2022 Aurora Prize Laureate Jamila Afghani, an activist for women's rights and education in Afghanistan and founder of the Noor Educational and Capacity Development Organization. In this challenging world, the need for leaders espousing and exemplifying humanitarian values is critical. As such, AUA is grateful for the ability to collaborate with its partners at the Aurora Humanitarian Initiative and Scholae Mundi in order to educate the next generation and inculcate in students these peace-building skills.
Dr. Vahram Ter-Matevosyan, assistant to the AUA President on Academic Affairs, opened the event by introducing the Aurora Humanitarian Initiative, a philanthropic vision of Vartan Gregorian, Noubar Afeyan, and Ruben Vardanyan. Through this initiative and on behalf of the survivors of the Armenian Genocide and in gratitude to their saviors, the descendants of the Genocide survivors have transformed their gratitude into action by supporting various educational initiatives, including student scholarships, grants to humanitarian projects, and promoting public awareness of humanitarian efforts.
Since 2017, in cooperation with Scholae Mundi Armenia, the Aurora Humanitarian Initiative has sponsored the Aurora Gratitude Scholarship, which enables students holding citizenship in Syria, Iraq, Lebanon, Jordan, Egypt, Russia, Georgia, Artsakh, and Iran to study at AUA by either partially or fully covering the tuition fees. The Scholarship was established in order to promote humanitarian values, which play a paramount role in our increasingly globalized world and are critical for University students, who will take on leading positions in society in Armenia and neighboring countries. Since the inception of the scholarship, the Initiative has provided financial support to 69 students pursuing both bachelor's as well as master's degrees at AUA, 20 of whom are currently enrolled.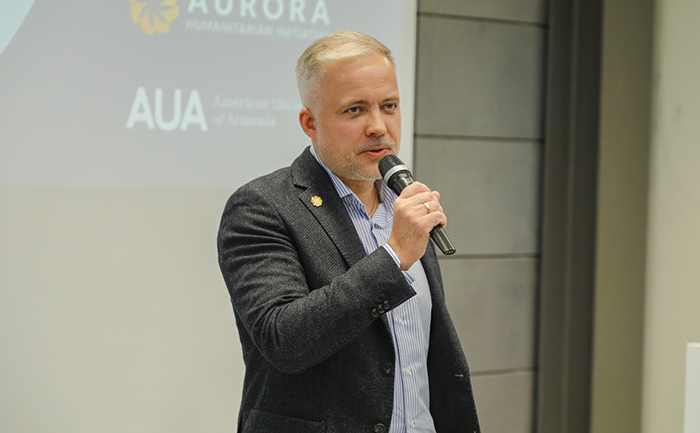 Next, Director of Humanitarian Programs at the Aurora Humanitarian Initiative Alexey Medvedev took the stage to highlight the primary activities realized by the organization: the annual $1 million Aurora Prize for Awakening Humanity awarded to heroes who risk their own lives, health or freedom to save the lives, health or freedom of others suffering as a result of violent conflict, atrocity crimes or other major human rights violations; over 300 projects in more than 50 countries, 46 of which have been designated by Aurora Prize Laureates; the Aurora Dialogues, a network of humanitarian heroes connected with policymakers; Aurora for Artsakh, launched following the 2020 Artsakh War and consisting of 94 projects supporting educational infrastructure, social development, and humanitarian aid; and Aurora Grants to support and preserve the Armenian legacy, disaster relief, and provide educational opportunities. "Throughout all our work, AUA has remained a steadfast and excellent partner of Aurora," emphasized Medvedev.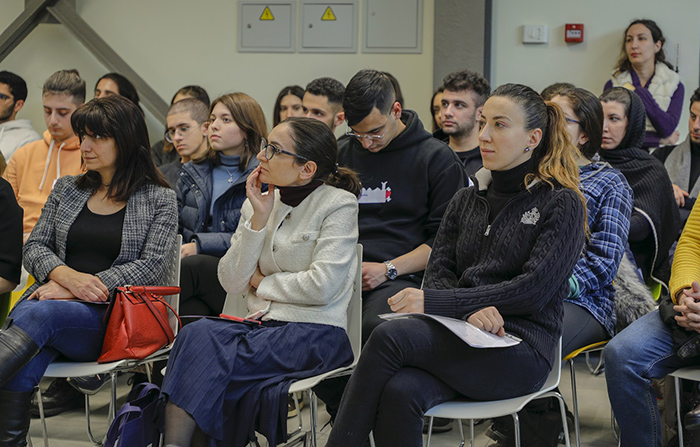 The attendees then watched a video about Afghani's work and joined a discussion with her via Zoom, during which she also fielded questions from the audience. "If I'm the only one who's happy, I cannot be happy," said Afghani in her opening remarks, referring to the 25 years of her life committed to fighting for the rights of women. When asked how she keeps her motivation in the face of difficulty, she replied, "Even if we are from a country with lots of difficulties, it does not have to stop us from being good human beings." She also emphasized her commitment to the next generation and desire to avoid placing the burden of solving today's problems on tomorrow's children.
Following the Zoom call, Zara Amatuni, Communication and Prevention Programs manager at the International Committee of the Red Cross (ICRC), spoke on the topic of getting involved in humanitarian work, highlighting the variety of roles and responsibilities which individuals can undertake. Next, representatives from the organizations in attendance — the Foundation for Armenian Science and Technology, UWC Armenia National Committee, Tatoyan Foundation, Protection of Rights Without Borders NGO, International and Comparative Law Center Armenia, and Public Journalism Club — introduced their respective organizations, after which current Aurora Scholarship recipients were given time to network and mingle with these representatives in order to select the organization where they would like to complete their internship.