YEREVAN — In 2022, the American University of Armenia (AUA) conducted a large-scale Armenia-wide survey on climate change awareness, level of trust in climate experts, and the role of government in addressing climate-related challenges.  This survey was organized parallel to similar surveys conducted in six other European countries: Ireland, Italy, Germany, Norway, Poland, and the UK.
The Armenia survey reached 1,104 randomly selected contacts and measured the degree to which exposure to information about climate change leads to relatively high levels of misperceptions. The sample size makes the findings from the survey generalizable to the population of the Republic of Armenia within a ±3% margin of error. Although research suggests that the last century's global increase in temperature was the largest in the past 1,000 years, the survey found that about one-third of the surveyed population either does not know about this, or considers it to be a false statement. Notwithstanding this finding, 80% of the Armenia respondents agree that climate change is primarily caused by human activities.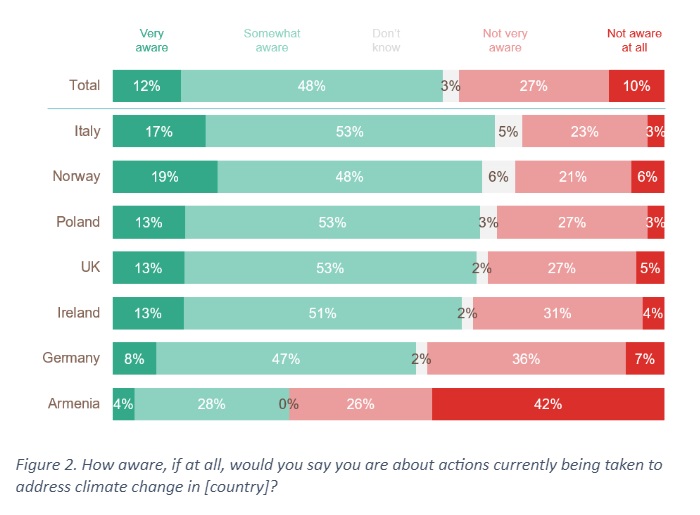 The survey revealed that only about one-third of the population in Armenia is aware of actions currently being taken in Armenia to address climate change, which is the lowest level of awareness compared to the other countries surveyed. Such a low rate of awareness leads to large percentages of people saying they don't know what to do to help prevent climate change. Only about one-third of the population says they know what to do, also the lowest compared to the other countries.
Despite being somewhat uninformed, the majority of respondents in Armenia think that climate change is already harming them (49%) or will harm them in the next 10 years (10%), but about one-fifth of the surveyed population thinks it will never harm them. The percentages of those concerned about the negative impact of climate change on the country are even higher, with very few people (5%) stating that it will never harm Armenia.
Although most people in Armenia are preoccupied with issues other than climate change, the overall attitude regarding this issue is not pessimistic: 62% disagree with the notion that climate change is beyond control and it's too late to do anything about it. People might be uninformed and say they don't know what to do, but they see the impact on themselves and on the country and expect something to be done about it. For example, there is a high level of respondents (97%) that are very supportive of the idea of protecting existing forests and planting more trees.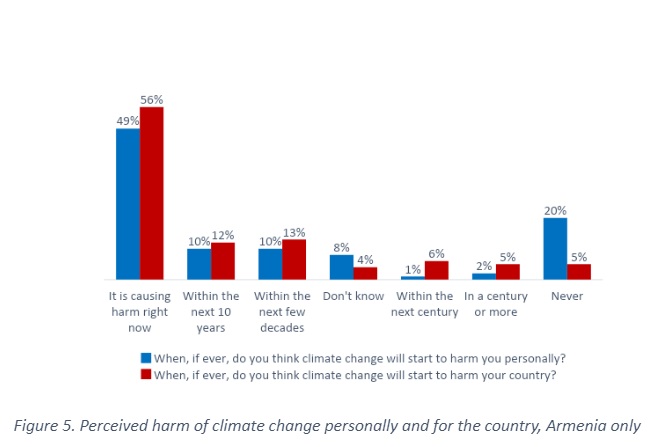 Survey results also show that, compared to other countries surveyed, people in Armenia are less engaged in climate-change discourse — the respondents state that they read and discuss the topic comparatively less than those in the six other countries surveyed. Many in Armenia feel there is not much they can do to help prevent climate change, although the findings show that the youth are less likely to feel disempowered. Overall, Armenia respondents do feel the impact of climate change. They might not know what to do and may not feel that their personal actions matter much, but they also do not think it is too late to address climate change issues.
For Armenians, social media is the most prominent source of climate change information, whereas for Europeans, it was the third largest source. European respondents report receiving the bulk of their climate change information from television (70%) and documentaries (41%), followed by social media.
The surveys are part of the EU-funded Horizon 2020 PERITIA project, which examines the role of science in policy decision-making. Peritia, a 3-year project, has received funding from the European Union's Horizon 2020 research and innovation programme under grant agreement No 870883. In Armenia, AUA conducted a survey of 1,104 randomly selected people by phone. In all other European countries, King's College London (KCL) led an online survey of approximately 12,000 individuals, about 2,000 per country, all having larger populations than Armenia.