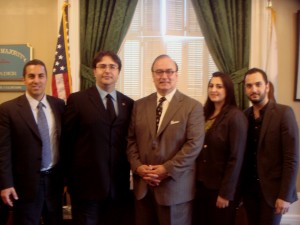 SACRAMENTO, CA – The Armenian Council of America, along with various Armenian groups participated in the California Senate and State Assembly annual Day of Remembrance of the Armenian Genocide. The day-long event included an invitation to attend Senate and Assembly floor sessions where several elected officials including Senators Simitian (D-Palo Alto), De Leon (D-Los Angeles), Liu (D-Pasadena), Assistant Speaker Pro Tem Gatto (D-Los Angeles), Assemblymembers Achadjian (R-San Luis Obispo), Olsen (R-Modesto), Feuer (D-Los Angeles) Portantino (D-La Canada) and Smyth (R-Santa Clarita) provided statements reaffirming their continued support of HR 27 calling on President Obama to recognize the Armenian Genocide.
Presiding over the Assembly session, Assistant Speaker Pro Tem Gatto introduced Rev. Fr. Asoghig Jamgochian, Parish Priest St. James Armenian Church in Sacramento to the floor to deliver the invocation for the ceremony. Following both ceremonies was a reception sponsored and organized by Gatto. The number of Armenian-American community leaders, activists and supporters was overwhelmingly large filling the room adorned with posterboards of Armenian landmarks and national treasures. Gatto thanked everyone for attending the event and pledged his continued and long-standing support of the Armenian-American community and the Armenian Cause. He introduced Majority Leader Calderon who also pledged to stand by the community and commended attendees for their continued involvement in civic affairs.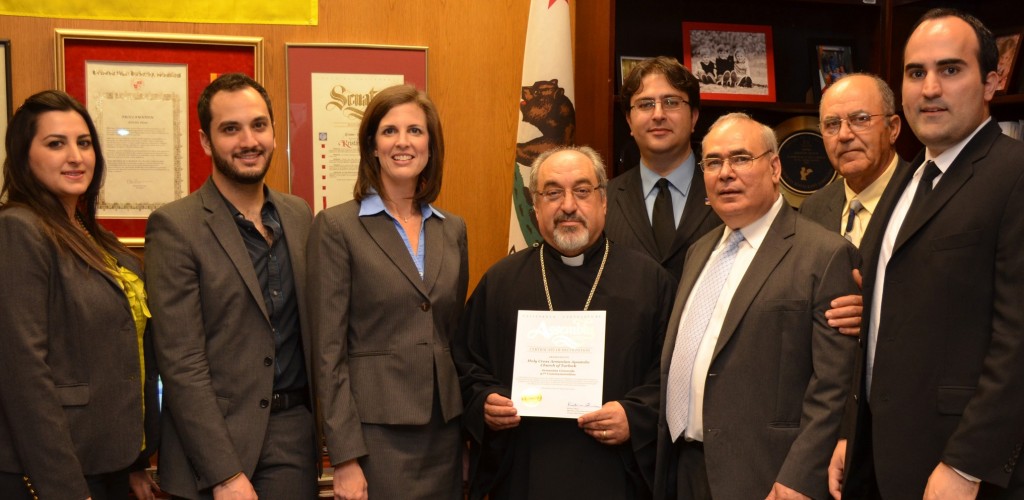 Members of ACA partook in several meetings with elected officials, both in the Senate and State Assembly who all praised the Armenian-American citizenry for their valor and impressive efforts in continuing the fight toward recognition of the Armenian Genocide by the U.S. Government. Assemblymember Achadjian encouraged more young Armenian-Americans to participate in government affairs. He emphasized the importance of having more Armenian-Americans serve as elected officials to give a stronger voice to the Armenian Cause and other issues that are pertinent to our community.

Achadjian also discussed his encounter with Turkish lobbyists who had approached him and described his vehement opposition to reaching any compromise as to the validity of their relentless efforts in downplaying the significance of the Genocide. He stated that on April 24, there will be a gala function organized and held by the Turkish lobby and expressed his extreme dissatisfaction with the decision of a few of his colleagues in the State Assembly who had chosen to co-sponsor and participate in the event. He also stated that with the 100th anniversary of the commemoration of the Armenian Genocide approaching, the Turkish lobby has become more aggressive and active in financially recruiting elected officials to join them in advocating against the Armenian Genocide and in favor of Turkish denialism.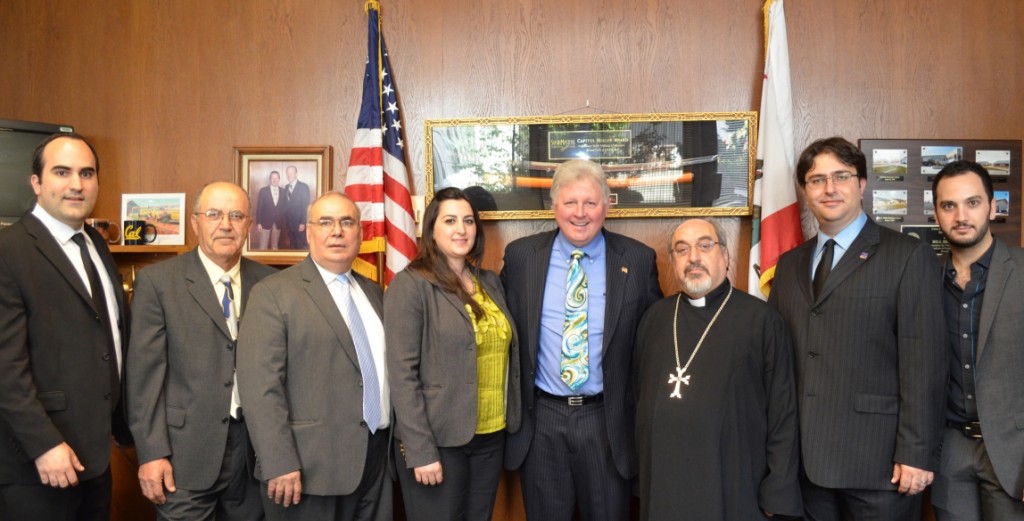 "We are grateful to California Senate and State Assembly for taking the initiative for continuing to sponsor and organize this event every year for the Armenian-American community," said Sevak Khatchadorian Chairman of ACA. "As Californians, we are fortunate to have so many elected officials supporting our Cause, however, our work as advocates of Armenian Genocide recognition does not end here. We need to have a heightened sense of responsibility toward working hard now more than ever to combat the Turkish lobby in their plight to destroy decades of hard work and community activism in achieving justice for victims and survivors of the Armenian Genocide. The only way they can achieve these efforts are through apathy and a declining level of community activism in the Armenian Diaspora."
The event came to a close with the screening of two Armenian Genocide documentaries. Although the documentaries created a somber mood, reminding the audience of stories of struggle and anguish as told by their ancestors, they were motivated and inspired to go out into their respective communities to work even harder to advance recognition and educating more people about the Armenian Genocide.