LONDON — Videos of a potential war crime have emerged as fighting rages around the disputed territory of Nagorno-Karabakh between Azerbaijan and ethnic Armenians. Both BBC news and bellingcat.com have confirmed the authenticity of the videos.
One video posted on a messaging app shows what appears to be two Armenians in military uniforms being captured by troops from Azerbaijan.
A second video seemingly shows the same Armenians being shot with their hands behind their backs.
Armenian authorities have identified the men as Benik Hakobyan, 73, and 25-year-old Yuri Adamyan. Azerbaijan has dismissed the videos as fake.
The pair of videos that the BBC has verified were posted on an anonymous Russian-language pro-Azerbaijan channel on Telegram messenger last week.
The first video appears to show Armenians Benik Hakobyan and Yuri Adamyan being taken prisoner.
In the video, someone speaking Russian with a heavy Azerbaijani accent orders the men to walk forwards, surrender any weapons and raise their hands. He speaks to the other soldiers in Azerbaijani, telling them not to hit the captives.
The younger prisoner, Yuri Adamyan, removes a helmet and his jacket before putting his hands in the air and walking out of shot.
Although the older man, Benik Hakobyan, is wearing a military-style camouflage jacket, it's unclear whether he is a soldier. He is pushed to the ground and appears to moan in pain.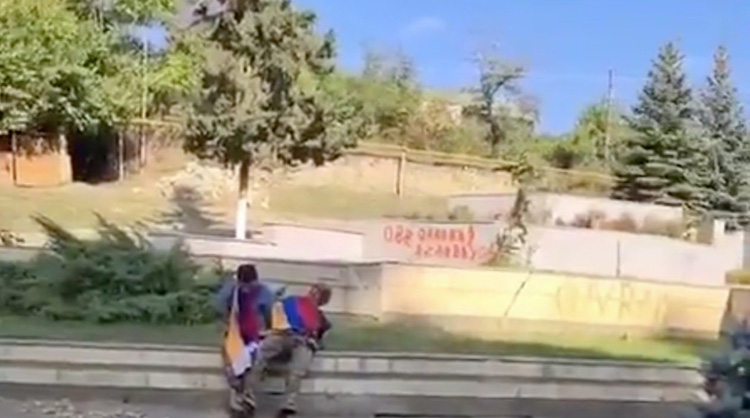 The first video was followed by a second that shows the apparent execution of the two men.
The prisoners appear to have their hands bound behind them and are draped in the flags of Armenia and the Nagorno-Karabakh.
They are sitting on a small wall and can be seen moving slightly. Then someone orders in Azerbaijani: "Aim at their heads." Multiple shots are heard and the prisoners slump to the ground.
The BBC has studied the clips and confirmed that they were filmed in Hadrut, a town that has seen intense fighting. It is in southern Nagorno-Karabakh, near Fuzuli.
Europe's top human rights watchdog, the Council of Europe, has said it has received the video and will look into all alleged human rights abuses and take action when appropriate.
BBC – Nagorno-Karabakh conflict: 'Execution' video prompts war crime probe
bellingcat.com – An Execution in Hadrut