WASHINGTON, DC — U.S. President Donald Trump spoke of "really good progress" made in international efforts to stop the war over Nagorno-Karabakh after U.S. Secretary of State Mike Pompeo met with the Armenian and Azerbaijani foreign ministers in Washington on Friday.
Reuters reported that Azerbaijani Foreign Minister Jeyhun Bayramov met with Pompeo for about 40 minutes. Moments after he left, Armenian Foreign Minister Zohrab Mnatsakanyan arrived for his meeting.
Pompeo tweeted after the separate talks that he discussed with Mnatsakanyan and Bayramov "critical steps to halt violence in the Nagorno-Karabakh conflict." "Both [sides] must implement a ceasefire and return to substantive negotiations," he wrote.
Pompeo did not report any fresh Armenian-Azerbaijani agreements that effect.
The U.S. State Department spokeswoman, Morgan Ortagus, said separately that Pompeo believes a Karabakh settlement should be based on "the Helsinki Final Act principles of the non-use or threat of force, territorial integrity, and the equal rights and self-determination of peoples."
According to the Armenian Foreign Ministry, Mnatsakanyan and Pompeo discussed the situation in Artsakh resulting from the Azerbaijani large-scale aggression. Minister Mnatsakanyan informed the US Secretary of State about the war crimes committed by the Azerbaijani armed forces during the hostilities, which are manifested by the deliberate targeting of the civilian population of Artsakh, humiliating treatment of civilians and prisoners of war, beheadings and murders.
The Foreign Minister highlighted that the Azerbaijani aggression is accompanied by the direct involvement of Turkey, which is manifested in its immediate military-technical support and transferring of foreign terrorist fighters to the region. According to Minister Mnatsakanyan, Azerbaijan's decision to turn itself into Turkey's zone of influence and a hotbed of international terrorism is a serious threat to regional security.
Minister Mnatsakanyan noted that the violation of the ceasefire agreements by Azerbaijan and the continuation of hostilities against the people of Artsakh once again demonstrate Azerbaijan's goal of resolving the issue by military means.
Both sides reiterated the need for the immediate implementation of the agreements on cessation of hostilities in the Nagorno-Karabakh conflict zone, as well as the continuation of the peace process within the framework of the OSCE Minsk Group Co-Chairs.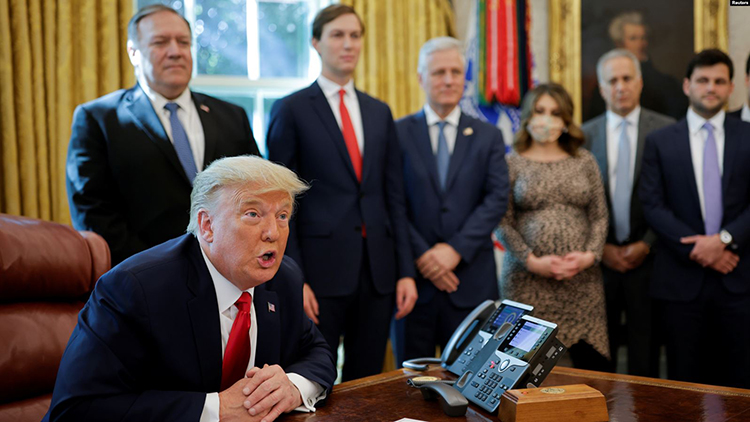 Meanwhile, Trump said Washington is "working with Armenia" with regard to de-escalating the conflict.
"We have a very good relationship with Armenia," Trump told reporters at the White Hose. "They are very good people, they are so dedicated. They are incredible people, and we will see what happens."
"I think really good progress is being made with respect to that," he said. "We have a lot of people living in this country originally from Armenia. They are great people and we're going to help them."
Russian President Vladimir Putin expressed hope on Thursday that the U.S. will assist Russia in its efforts to get the conflicting parties to respect a ceasefire agreement that was brokered by Moscow on October 10.