By Taleen Babayan
Forging a bridge to connect students with professionals and encourage mentorships is a vital undertaking for the Western Diocese and among its chief priorities. Through its innovative Nerouj program, the Armenian youth of the Los Angeles community are empowered through education, support and guidance as they build instrumental relationships that will navigate them in their professional and personal lives.
During its most recent panel, Climb Higher Heights, over 100 high school and college students were exposed to qualified specialists who touched upon the relevant topics of career development, professionalism and spirituality on Sunday, February 10, 2019, at the Western Diocese in Burbank, California, under the auspices of His Eminence Archbishop Hovnan Derderian, Primate of the Western Diocese of the Armenian Church of North America.
The panelists, including Harout Keuroghlian, owner and CEO of JohnHart Realty; Natalie Qasabian, independent film producer; Nerses Aposhian, Director of Content at JohnHart Realty and co-host of The Founder Hour podcast; R-Mean, rapper and pharmacist; and the Honorable Armenui Amy Ashvanian, California Superior Court Judge, elaborated on their experiences in their respective fields in a thought-provoking discussion led by adept moderator Salpi Ghazarian, Director of the USC Institute of Armenian Studies.
As generations churn and assimilation becomes more of a concern, the ability to bring the youth together matters more than ever. The success of Nerouj in its short history is a testament to the prescient vision of Archbishop Derderian, who devised the program when he observed gaps and missed opportunities by community leaders to usher in the new generation.
"Through this mission, we send a clear message that the due respect and trust should be given to the youth, our young leaders, because they have the intellectual motivation and self-confidence to become successful and bring the community to a new level," said Archbishop Derderian. "We have to invite them so they will come."
An abundant number of bright-eyed youth answered his call and have benefited ever since from the meaningful and practical initiative. Nerouj, a compound word that has its roots in the Armenian words nerkin (within) and ouj (strength), is a positive force in the Los Angeles Armenian community that advocates relationship building and mentorship while also placing high value on inner spirituality and morality.
"There is both a need and a desire in our community for young professionals to meet and establish connections," said Chair Silvana Vartanian, who leads the 20 member committee. "Nerouj has been a positive impact on the youth because they can see the vast variety of individual talents and career paths the new generation of Armenians have taken."
In recognition of Nerouj's influential strides, California State Senator Anthony Portantino made a special appearance at the Climb Higher Heights panel, remarking that it was an "honor" to be in attendance at the Western Diocese.
"Any organization that tries to connect young people with mentors and helps young people succeed has my support," said Senator Portantino who acknowledged the third year anniversary of the program with a special certificate on behalf of the State of California. "Nerouj provides opportunities to the youth for enrichment as they pursue their dreams."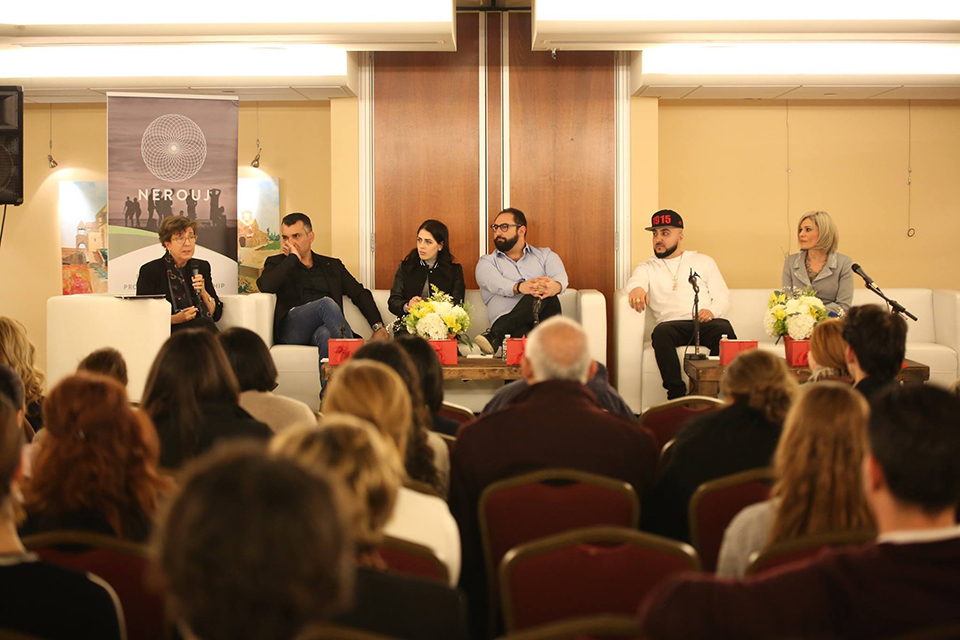 As a way for the panelists to introduce themselves and also demonstrate how to present oneself when the opportunity arises, Salpi asked that they each make a one-minute elevator pitch about their work. Key takeaways from the responses included dedication, sacrifice, setting goals, avoiding excuses and working hard.
For many of the panel members, whose professions ranged from real estate to entertainment to law to the arts, their motivation stems from the fulfillment they derive from their careers.
"I was born and raised in an oppressive Soviet regime so I always wanted to change the world," said Amy, who noted that she regularly sought guidance from her mentors. "I discovered that my way of helping people was through public service."
For Natalie, her dreams materialized when she picked up a camera at the age of 10 and started making short films. "At a young age I discovered I enjoyed entertaining those around me," she said.  
A catalyst in the workplace, Harout said he pushes those around him to always aim higher.
"I want to make every single person who comes into my world the wealthiest they can be, whether in terms of emotional or financial success," he said.
Touching upon the theme of an evolving world, Nerses spoke of finding his niche in the digital age.
"I want to impact people and be the leader who guides and motivates his team," he said.
R-Mean, who earned a doctorate in pharmacy but turned to his passion of rapping full-time, said he appreciates waking up each day and pursuing music.
"Anyone who has a creative side can understand how rewarding it is to the point of it becoming an obsession," he said, while highlighting the importance of continuing education in order to reach the pinnacle of success.
"Never stop learning," said R-Mean. "Keep learning in whatever field you are in and stay ahead of the curve."
Speaking on the evident changes in society, the panelists said they have noticed that their counterparts are more aware of their surroundings.
"Social responsibility is bigger than ever," said Natalie. "The world is more in tune with what is going on."
The trend that has been most clear to Amy is diversity in the workforce, "a very positive change" that now represents more women and minorities.
The panelists also spoke of practical skills such as planning and improvising in the office as well as adapting to different professional environments and technological changes.
"Technology gives us such an advantage," said Harout. "Instead of being afraid of it, people need to learn it so they can welcome the opportunity to disrupt the industry."
Turning the conversation to their cultural heritage, Salpi inquired how being Armenian has affected the panelists in their work and how they partake in advancing the homeland.
"What are you doing to empower Armenia, Artsakh and its people?" she asked. "How do you make it real and not just symbolic?"
In response, Amy said she pursues her work for the next generation so "they have human rights and can understand laws and procedures."
"Each one of us contributes what we can to make this world a better place," she said. "I grew up in a society where I wasn't allowed to ask questions so I want to help others express themselves."
Discussing individual power and how to maneuver it into a collective entity, Salpi posed the question of how the panelists tackle the basic social needs of the community.
"It's important to have the knowledge and know what is going on," said Nerses. "It is the responsibility of those in the community to inform business leaders, filmmakers, musicians and tell them to take part and be helpful."
Pertaining to the concept of "Armenianness" and how it affects their daily work, Natalie said that it is time to change the way society thinks of Armenians and that more should be done to attract attention.
"It's about us making noise and people recognizing us," she said.
"Hip hop is the voice of struggle and I wanted to tell the story of my people," said R-Mean. A song of his, Open Wounds, started a movement to prevent social injustice and he parlayed it into a popular non-profit venture alongside his music career.
At the conclusion of the panel, Silvana thanked Archbishop Derderian and expressed gratitude for his support of Nerouj's mission. "He has shown us that the doors of the Diocese are open not only for practicing our faith but planning and structuring a better future for the Armenian community."
Archbishop Derderian remarked that it was an "enlightening and educational" panel and explored the meaning of the organization's name.
"Nerouj means inner strength," said Archbishop Derderian, who emphasized to the participants the significance of being mindful of their inner selves. "Understanding who you are sets the tone for the path of your life."
He urged the individuals in attendance to have a vision and passion for their futures and to learn from both the structured nature of school but to also educate themselves through others.
"The mentor and the mentee are born together and they journey together," said Archbishop Derderian, who recounted the organic manner in which he and the Catholicos of All Armenians His Holiness Vazken I, of blessed memory, established a mentor and mentee rapport.
He thanked Silvana as Chair of Nerouj, the committee members, the panelists, the moderator and the audience members, whose presence he highlighted. The attendees, in turn, gained useful insight as they widened their horizons.
"As a passionate youth committed in empowering my inner spirit with wisdom, this year's guest panelists were not only successful in giving me the tools to witness a new perspective about life, but they also shed a light on the importance of the Armenian youth community and its connection to our motherland, Armenia," said Delilah Shahbazian, a fashion marketing student at Woodbury University and a Nerouj committee member.
Participants connected with the thoughts and opinions of the panel members, such as Meg Chakerian, who reflected on Harout's sentiments of the phrase "fake it until you make it," in which he expressed that people should exert more effort so they can put their best, and most truthful, foot forward.
"This quote and his perspective stood out to me because it made me realize there is no need to fake something," said Meg, a UCLA graduate with a bachelor's degree in biology, who is preparing to apply to medical school. "By working harder, it is possible to achieve all of your goals."
Through the Nerouj platform, students in high school, college and those in transition have the chance to network with professionals in a myriad of fields, such as business, finance, entrepreneurship, law, entertainment, communications, medicine, academia, psychology and fashion. Stepping into the world of both Armenian and non-Armenian circles, participants are invigorated through social events, symposiums and panels such as the New Connect program. The organization also bolsters its network through collaborations with others including AGBU Young Professionals, ANCA Professional Network, Armenian Professional Society, and Birthright Armenia. These groups consistently work together on noteworthy projects that benefit the homeland, such as raising funds for the HALO Trust, which supports demining efforts in Artsakh as well as collecting clothing and blankets with the Armenian Relief Society to distribute to the homeless Armenians in Los Angeles.
Sarelle Janoian, a college student studying public health, acknowledged the unique aspects and objectives of Nerouj's programming.
"Nerouj has opened new doors for individuals into the community and it has allowed the youth to have the opportunity to socially connect with all kinds of professionals and to receive fresh perspectives and views," she said.
Nerouj fosters a strong and nurturing environment for its participants, who have a consistent place to turn to when seeking professional guidance, all within the aura of the Western Diocese, which serves as a serene setting for many of its events, while embracing the Armenian youth.
"I had a great time meeting people and learning powerful information," said Jack Janoian, a student at Burbank High School.
The panel, and the greater scope of Nerouj, serves as an inspiring outlet for students to establish professional connections while remaining involved in their culture through the lens of the Armenian Church, which recognizes the influence of the next generation.
"Rarely do you see a gathering where the vast majority in attendance are the youth and this is exactly what we want to see in the life of the Los Angeles Armenian community," said Archbishop Derderian. "The drops create rivers and oceans."
For more information and upcoming events visit nerouj.com, email [email protected], call 818-929-1390 and visit on social media (Facebook: @nerouj and instagram @nerouj_WD)