GLENDALE – On January 18, 2019, Sona Armenian became the oldest woman to summit Mount Aconcagua at 70 years and a few weeks of age.
Aconcagua, formed volcanically and standing at 22841 feet, is the highest mountain in South America.  As such, it is one of the "seven sisters" – the tallest mountains on each of the seven continents.
This was Sona's third sister, having already attained Africa's Kilimanjaro (19341'), three volcanoes stacked atop one another, in 2012 and Europe's Elbrus (18510'), a two-coned volcano in 2017.  She also holds the record as the oldest woman to have summited Mexico's highest peak Orizaba (18491') in 2016, another volcano.
The climb was a 16-day Herculean labor.  Sona was part of a group of seven climbers (the other six ranging in age from 31 to 64, one of whom got sick and went back) being led by Grajales, the first company to offer guide services to the summit of Aconcagua, starting in 1976.  They named themselves "The Cosmo Team" because they hailed from all over the planet – Argentina, Bolivia, Britain, Chile, Japan, Korea, Mexico, Switzerland, US.  Along the way, they met a group of five Bolivian women in native dress who also succeeded in reaching the top and have become heroines (https://explorersweb.com/2019/02/05/after-aconcagua-bolivian-women-ponder-their-next-move/)in their home country.
The ascent starts in the beautiful Horcones Valley of Argentina in the Parque Provincial Aconcagua.  Some days are long slogs with little elevation gain. On other days, the agenda consists of practice hikes to other summits in the area involving thousands of feet of ascent in their own right.  Thankfully, the climbers occasionally get a rest day, and the food is abundant and varied, even satisfying vegetarians such as Sona.  Some of this rest takes place at base camp where ten companies are host clients in color coded tents.
One of her challenges, though, was drinking the minimum five liters of water daily the guides required!  But the biggest challenge was the cold.  Even though it was summer in the southern hemisphere, Aconcagua's height and a colder-than-usual year with -30°F temperatures kept the climbers in their sleeping bags inside their tents for some 12 hours a day!
Practices took the climbers gradually higher, following the adage "climb high, sleep low".  After many days of gradual upward progress, it was summit day.  The Cosmo Team got lucky.  Bad weather had bedeviled them most of the time, and more of it was on the way.  But exactly on their big day, a window of acceptable weather opened up.  Everyone made it, although two were exhausted and had a very difficult descent.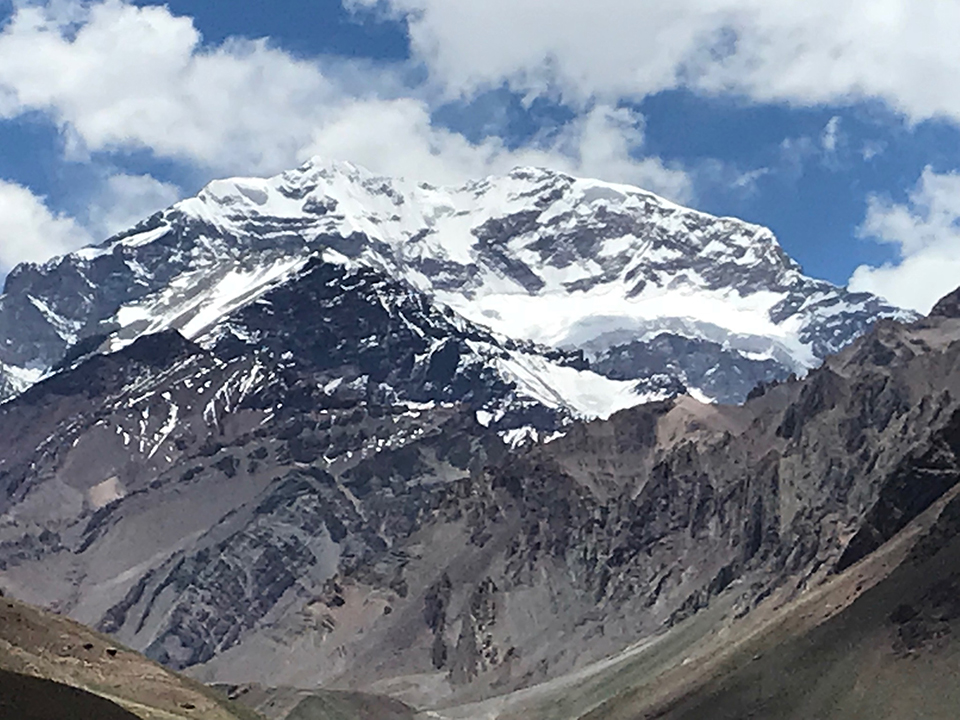 To prepare, Sona was training hard for months.  She hiked Mt. Baldy (10062'), the highest point in Los Angeles County almost weekly.  Having a home abutting the Angeles National Forest makes it easy to access, and Sona would often be seen heading for Mt. Lukens (5,066'), the highest point in the City of Los Angeles. She hiked daily, on her own or with groups, and sometimes twice a day.  For the last three months, she even added some gym training time. But this is all just part of what she loves to do.  She has hiked in many countries and has Ararat under her belt, too!  She was among the first women to participate in Lebanon's marathons in the 1960s and was the women's champ in 1986.
Sona loves the mountains, and is fortunate that her family does, too.  Her husband and son, Harout and Saro, were with her on Kilimanjaro.  Harout was with her on Ararat.  Her grandchildren, Shant and Sareen, at ages 12 and 9 respectively, joined her to become the youngest Armenian brother-and-sister pair to summit Mt. Whitney (14,505').  Sona also shares her love of the mountains.  She is a founding member of both, the Armenian Hikers Association and Armenian Hiking + more.  She leads and participates in their and the Armenian Hiking Society's hikes and trips.
You can see pictures of the fabulous mountains and dedicated climbers from this arduous climb and hear the details directly from Sona on February 27, 7:00 pm at an event organized jointly by the Armenian Hiking Society and Armenian Hiking + more in the library of the Armenian Society of Los Angeles, 117 S. Louise Street in Glendale, CA 91205
The Armenian Hiking Society and Armenian Hiking + more promote enjoyable, challenging, healthful, safe, and varied hikes and similar activities in the wildlands, woodlands, and wherever else Armenians and their friends can go.  They can be reached at https://www.facebook.com/groups/ArmenianHikingSociety/ and https://www.facebook.com/groups/armenianoutdoorsorganization/ respectively.