YEREVAN — A diplomatic row between Armenia and Belarus intensified over the weekend after Prime Minister Nikol Pashinian condemned Belarusian President Alexander Lukashenko for questioning Yerevan's role in the Collective Security Treaty Organization (CSTO) at a meeting with an Azerbaijani official.
Pashinian also hit out at Kazakhstan's President Nursultan Nazarbayev who has openly backed Lukashenko's efforts to install a new, Belarusian secretary general of the Russian-led defense alliance.
The previous CSTO head, Yuri Khachaturov of Armenia, was forced to resign earlier this month after being charged by Armenian law-enforcement authorities in connection with a 2008 crackdown on opposition protesters in Yerevan.
Khachaturov was appointed as secretary general in 2017 after Russia, Belarus, Armenia, Kazakhstan, Kyrgyzstan and Tajikistan agreed that their representatives will take turns to run the CSTO. His three-year tenure was due to expire in 2020.
The Armenian government is seeking to install another Armenian secretary general who would serve until 2020. Lukashenko and Nazarbayev objected to that, however, at a November 8 summit of the CSTO held in the Kazakh capital Astana. They demanded that a representative of Belarus be named as new head of the CSTO.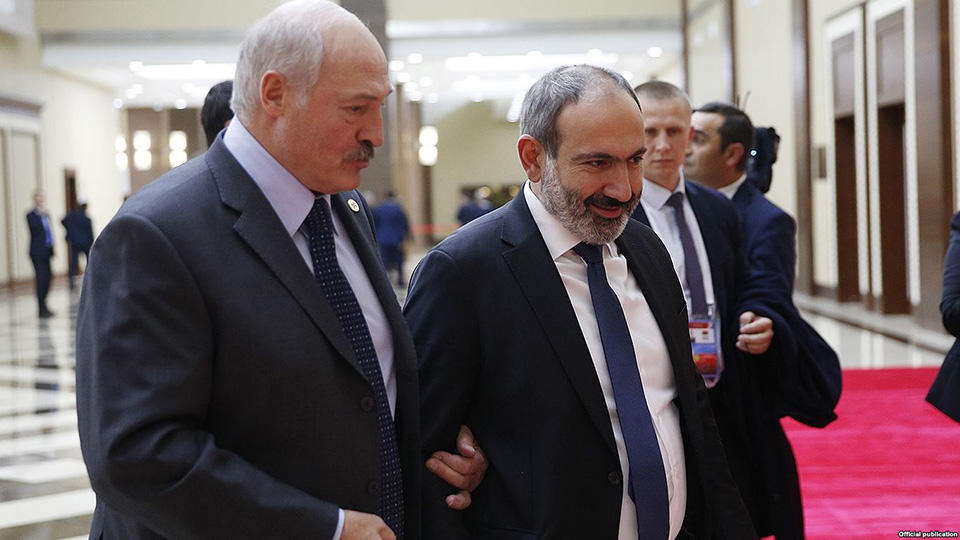 The CSTO leaders said they will again try to reach consensus on the issue at another summit slated for December 6.
Lukashenko made a point of publicly reaffirming his position at a November 12 meeting with a senior diplomat from Azerbaijan, Armenia's arch-foe which is not a member of the CSTO.
Lukashenko's comments raised eyebrows in Yerevan. Local politicians and commentators believe he deliberately made them at a meeting with Azerbaijan's ambassador in Minsk in order to add insult to injury.
"Our foreign ministry has already reacted to that," Pashinian told journalists on Saturday. "Just imagine a similar situation: I invite the ambassador of a country that is not the CSTO member and tell him about a closed-door session. Could you imagine that? This is a closed-door meeting, where the leaders of the military and political alliance discuss something behind closed doors. This means that this is a closed-door discussion by allies. And I am surprised that a person who enjoys the status of the head of state for 30 or more years can conduct this way. And I will have to demand explanations from the Belarusian president and not only from the Belarusian president."
Nikol Pashinian said that the Kazakhstan president, too, has made a statement contradicting the arrangements.
"He stated after the closed-door summit that a representative of Belarus will be appointed as CSTO secretary general," Pashinian said. "Nobody has a right to make such a statement, since decisions in the CSTO are made by consensus, and we have clearly voiced our stance – nobody is allowed to make such a statement until we make a collective decision."
Official Minsk scoffed at the criticism on Saturday. A spokesman for the Belarusian Foreign Ministry said Pashinian seems to regard himself as an "international prosecutor empowered to punish and pardon" foreign leaders.
"Apparently Mr. Pashinian has not yet realized that the rules of so-called street politics are not acceptable in international politics," the spokesman said in a scathing reference to the fact that the Armenian premier came to power in May in a wave of street protests organized by him.
Pashinian also said that he discussed the matter with Russian President Vladimir Putin in a phone call earlier on Friday.
Lukashenko already sparked a bitter diplomatic row with Yerevan in early 2017 after ordering his law-enforcement agencies to arrest and hand over to Azerbaijan a Russian-Israeli blogger who had repeatedly visited Nagorno-Karabakh without Azerbaijan's permission.
The Armenian Foreign Ministry condemned the move and implicitly branded Belarus a "dictatorship." Senior Armenian lawmakers launched even more scathing attacks on Lukashenko at the time.
The autocratic Belarusian leader, in power since 1994, makes no secret of his warm rapport with Azerbaijan's President Ilham Aliyev. The latter began an official visit to Minsk on Monday.
Belarus has been a major supplier of weapons to Azerbaijan. Those include Belarusian-made Polonez missiles that have a firing range of 200 kilometers. The Azerbaijani military apparently acquired them early this year.