WASHINGTON, DC — From the frontlines of Armenia's Velvet Revolution to demonstrations back in 1988, an outstanding panel of experts spoke to a packed audience of students, professionals, former ambassadors, and the general public at George Washington University's Elliott School of International Affairs, in Washington, D.C., on the October 28, 2018, at "Armenia's Velvet Revolution After Six Months: Beyond the Headlines," a program sponsored by the National Association for Armenian Studies and Research (NAASR) and the Calouste Gulbenkian Foundation Series on Contemporary Armenian Issues, the George Washington Armenian Students Association, and the Arlene Saryan Alexander and Judith Saryan Washington, D.C. Forum. Stellar panelists offered thought-provoking presentations whose personal insight and professional expertise were evident throughout the afternoon.
After an introduction from the Co-Chairs of the George Washington Armenian Students Association Celine Der Boghosian and Kyra Chamberlain, NAASR's Executive Director Sarah Ignatius welcomed the diverse crowd of more than 100 people to this timely program and described NAASR's leadership in Armenian Studies since its founding in 1955. "NAASR has a universal appeal," she said. "Whether you are 100% Armenian or some fractional percentage, or not Armenian at all, you are welcome at NAASR, whose work advancing Armenian Studies brings some of the best thinkers, like the expert panelists today, to the public." She also welcomed everyone to attend the Grand Opening of NAASR's new headquarters building in Belmont, MA, set for October 4-6, 2019, once construction is complete.
Rachel Nadjarian, a seasoned entrepreneurial management, development, and communications professional, based in Washington, D.C., kicked off the panel as moderator. At this pivotal point for Armenia and the snap elections set for December, she asked the audience to keep in mind a few themes and reminded attendees of Prime Minister Nikol Pashinyan's words upon his resignation: "The power is in your hands. Vote as you wish."
Ruzanna Grigoryan, originally from Armenia and currently a fellow of the Armenian Room Fellowship Program in the Philosophy Department of the University of Pittsburgh, and specializing in Immanuel Kant's political philosophy, offered a highly focused presentation of events and protests in Armenia since independence in 1991, leading to the peaceful revolution and resignation of Prime Minister Serzh Sargsyan. She highlighted many local demonstrations that created a new culture of resistance and non-violent, decentralized direct action. As an activist herself, she said this was the first time she had taken the opportunity to give a talk about revolution and described the recent mayoral election in Yerevan as "the first fair and democratic election since 1991."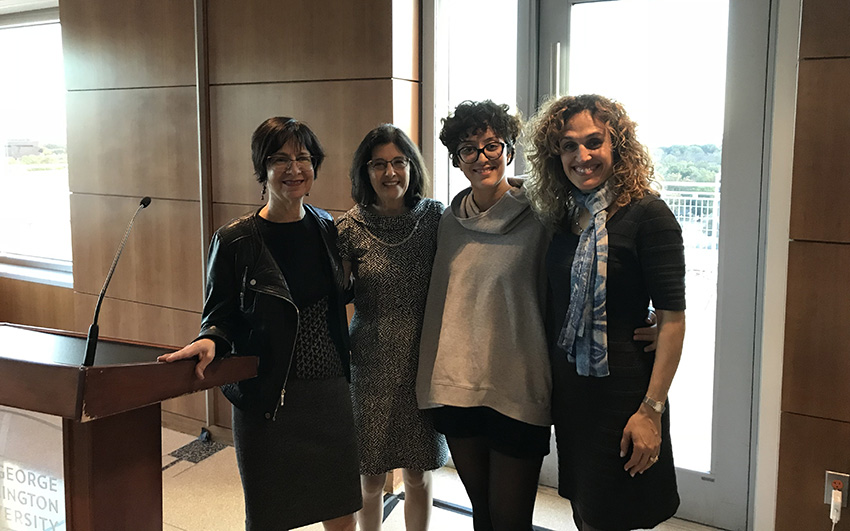 Emil Sanamyan, a journalist based in Washington, D.C. with more than 20 years' experience, writing predominantly about the South Caucasus, and a senior fellow with the University of Southern California's Institute of Armenian Studies, picked up where Grigoryan left off, and discussed factors that precipitated Sargsyan's resignation, as well as the stages of the peaceful transfer of power, the focus of the new government on arresting corrupt officials, and the victory of winning 81% of the vote in the mayoral election, creating a good moment to push for Parliamentary elections.
Armen Kharazian, an attorney based in Washington, D.C. and a former member of the Armenian diplomatic service, holding several positions from 1993-2001, offered his perspective on Armenia's successes over time in garnering international support and suggested ways Armenia could now strengthen its position worldwide by focusing on security, communications, and technology by building an infrastructure independent of Russia. Among specific suggestions was that Armenia launch its own satellite for an independent internet, not managed by Russia, as well as its own independent airline.
The audience, ranging in age from 20 to 98 years old, engaged in lively questioning of the panelists, with most audience members remaining for the entire afternoon on a fall day, in the scenic City View Room of GW's Elliott School.
"Washington D.C. is an ideal venue for contemporary topics," said Judith Saryan, NAASR Board member. "This program showed the broad interest among DC-area residents of all ages in the international implications of the recent political transformation in Armenia."
This program capped NAASR's series of three programs on "Armenia's Velvet Revolution After Six Months," all held within the past 30 days along the Eastern Seaboard in Cambridge, New York, and Washington, D.C., at Harvard, Columbia, and George Washington universities, respectively, as part of the NAASR/Calouste Gulbenkian Foundation Series on Contemporary Armenian Issues, whose goal is to encourage discourse on current-day topics of vital interest to the international community. The Voice of America's Armenian Service and Armenian Public Television televised segments of the Washington, D.C. event for their audiences around the world.
To learn more about NAASR, go to www.naasr.org, where you can also view many NAASR programs online.