BY FLORENCE AVAKIAN
WEILL HALL AT CARNEGIE HALL, NY—It was both a celebration of the 10th anniversary of Direct Help for Armenian People (DHAP), and the 2800th anniversary of Erebuni-Yerevan.
President and DHAP founder Dr. Svetlana Amirkhanian warmly welcomed the audience to this celebratory concert which took place at New York's famed Carnegie Hall in New York, on Saturday October 20th that presented the year's talented Armenian youth finalists.
Opening the sold-out event was a soulful prayer by Armenian Diocesan Vicar General, the Very Rev. Fr. Simeon Odabashian, followed by the presentation and awarding of this year's talented youth finalists by Master of Ceremonies Eugenia Sarian.
As 17 youngsters of the Hamazkayin "Arekag" Choir led by their musical director and conductor Vagharshak Ohanyan filed onto the stage, the audience erupted into thunderous applause. In joyful voice and perfect unison they offered a number of moving Armenian numbers.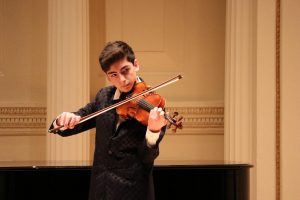 For many of the young performers, Aram Khachaturian was the dominant composer, especially for talented pianists Davit Avetisyan, Yana Prakhina, Maxim Tesovic. Alex Vartanian's interpretation of the famed composer's "Waltz" displayed a deep understanding of the music, and Cami Hall played an impressive first movement of Khachaturian's "Sonatina".
Other gifted pianists were Michael Khoury sharing Beethoven's "Sonata in F minor", and Andrew Boldi interpreting Ed Baghdasaryan's "Prelude in B minor".
Lovely voices by Anahit Indzhigulyan, Alice Mashensky and Christina Kerestedjian soared musically throughout the hall. And a beloved "Oror" by Barsegh Kanachyan, sung with great feeling by sisters Sareen and Arya Balian brought many in the audience to tears.
Baghdasaryan's beautiful "Nocturne" was given a soft and lyrical interpretation by violinist Aren Arakelyan, and Robert Ward's first movement modern and difficult "Concerto for Saxophone" was played with great nuance by David Hovanisyan.
Cellist Laura Navasardian's masterful rendition of Kabalevsky's "Concerto No.1 in G minor", accompanied on the piano by her equally talented mother Lilit Navasardian, nearly brought the house down. Accented by lush tones, great technique, and deep emotion, this youngster is ready for professional stage performances.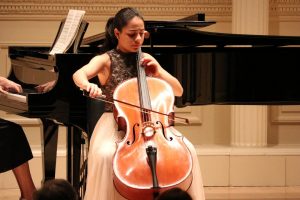 The concert concluded with the Hamazkayin "Arekag" Choir offering a special tribute to the late International legend Charles Aznavour with his moving "Hayastan", after which they appropriately sang Edgar Hovhannisyan's Erebuni-Yerevan to a standing ovation.
During the closing ceremony, flower bouquets and commendation plaques were presented to the tireless planners and organizers Dr. Svetlana Amirkhanian, Marina Baghdasarova, and Eugenia Sarian by Armenia's Ambassador to the United Nations Mher Margaryan. Another tribute for many years of dedicated service was given to Vagharshak Ohanyan.
Honorary Chairman of the Tekeyan Cultural Association Hagop Vartivarian animatedly speaking in Armenian, thanked the organizers for "bringing Armenian breath and culture to the new generation".
Dr. Irina Kakossian who with her husband Dr. Ken Kirakossian were the major benefactors of the concert, expressed special gratitude to all involved.