LONDON — While matches with Henrikh Mkhitaryan, a midfielder at Arsenal F.C., draw many of his fans to the stadium, thousands of Armenians across the globe cheer for him on screen, simultaneously taking pride in his stellar athletic accomplishments. On November 3, "Micki's" supporters and friends of the Armenian General Benevolent Union (AGBU) gathered at The Dorchester in London to celebrate his achievements in football, thank him for his humanitarian outreach and raise funds for the two TUMOxAGBU Centers.
Born in Yerevan in 1989, Mkhitaryan grew up dreaming of playing football. His passion for the sport began watching his late father Hamlet Mkhitaryan-a footballer who played for Armenia's national team and the local Premier League in the 1980s. Starting in a senior club in Armenia at 17, Mkhitaryan embarked on an international career only four years later. His personal discipline, intelligence and talent landed him contracts with Borussia Dortmund and Manchester United F.C. Now, an idol for youth, Mkhitaryan has empowered thousands of Armenian children who look up to him, inspired by his drive and his love of his country. Involved in charity projects early on in his career, he was appointed UNICEF Goodwill Ambassador in Armenia in 2016, and has worked with the organization vigorously championing children's rights and access to education and sports.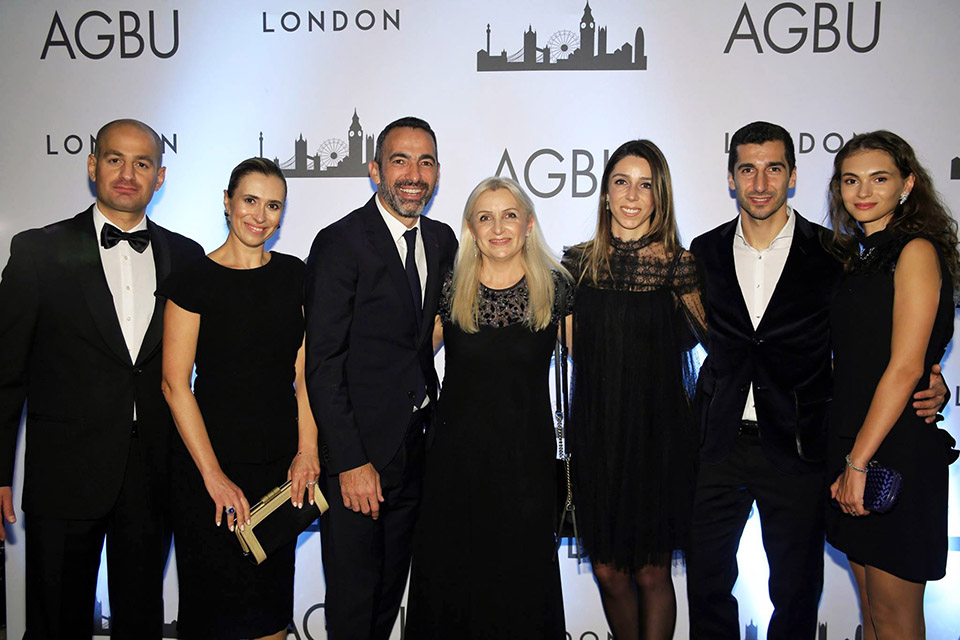 A convivial and festive atmosphere prevailed throughout the gala, with Master of Ceremonies Camilio Azzouz, who welcomed guests from across the globe, including French-Armenian football star Youri Djorkaeff who joined the evening. Azzouz, a trustee of the AGBU London Trust, spoke on the importance of AGBU's strategic partnerships and the power of programs like TUMOxAGBU, which became a reality with the support of AGBU Central Board Member and CEO of Amber Capital Joseph Oughourlian who was inspired to help expand the reach of the successful Tumo Centers for Creative Technologies (TUMO).
For Oughourlian, the night was one to highlight the work of AGBU and TUMO, and also an opportunity to note defining moments of Armenian national identity. "Growing up in France there was a palpable shift in pride as we watched Youri and the French National Team win the country's first FIFA World Cup in 1998.  With his talent, he brought Armenians to the world of football. And now, once again we beam with joy each time Henrikh Mkhitaryan takes the field and we hear his name cheered in the crowd. Henrikh has taken the opportunity to teach the world of football and its millions of fans about Armenia. They are our success stories and when one of us succeeds, we all succeed," Oughourlian stated on stage. This is the third time that Oughourlian, along with his wife Jenny, has generously hosted the AGBU London Gala.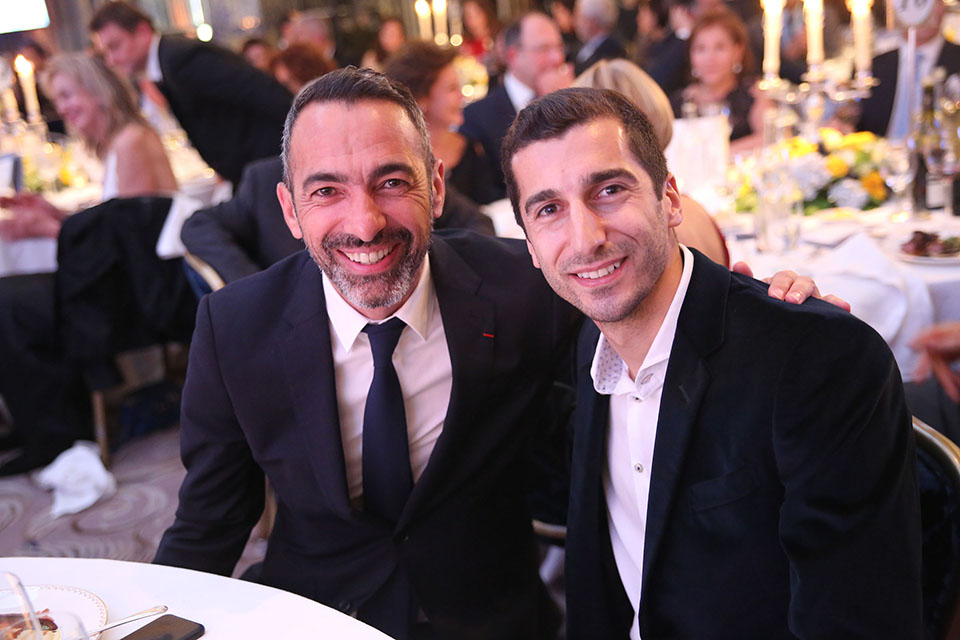 The highlight of the evening came when Mkhitaryan himself, arriving shortly after his Arsenal F.C. match, took the stage to accept the AGBU Global Excellence Award. "I would like to thank AGBU and its leaders for inviting me to be part of this great event organized to support the education of our Armenian youth. I would like to thank Youri for being a role model to me when I was younger as I dreamt of playing professional football. We have to inspire our youth and focus on providing them with new life opportunities to encourage them to reach their goals. I am grateful to see the work of organizations like UNICEF, AGBU and TUMO," he said.
Since their inception in 2015, the TUMOxAGBU Centers have touched the lives of 3,000 students. These state-of-the-art facilities offer bright, promising students access to free hands-on programs, helping them discover their talents, acquire new digital skills and boost their creativity. Building on its mission to make innovative and quality education accessible to more young people, AGBU continues to help shape the next generation of skilled and educated Armenians through various programs and initiatives, including the partnership with TUMO, which yielded the establishment of these centers.
The spirit of the night did not waiver. In fact, the excitement built and lasted. AGBU President Berge Setrakian concluded the evening which raised over $230,000, saying: "Each generation of Armenians must have their heroes-ones who embrace their identity and share it with the world, as well as ones who encourage us all to strive for excellence. From Aram Khachaturian to the late Charles Aznavour, this has always been the case. Today we have this wonderful role model for our youth. Henrikh, you exemplify all that we think of as a true citizen of the world. Thank you for continuing to bring pride to us all."