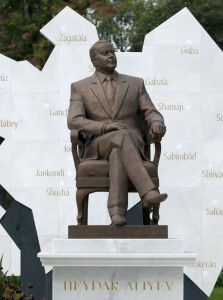 Azerbaijan Threatens to Suspend Diplomatic Relations
MEXICO CITY — A three-member commission of intellectuals recommended Friday that Mexico City's government remove a life-size bronze statue of Azerbaijan's former president Heydar Aliyev that provoked a storm of criticism after it was installed on the capital's main boulevard.
Critics said a dictator like Aliyev did not deserve a statue in a park where monuments have long honored the likes of Gandhi and Abraham Lincoln.
Azeri Ambassador to Mexico Ilgar Mukhtarov has declared that in case of dismantling Heydar Aliyev's monument in Mexico Azerbaijan will apply to the court. "If Mexican Municipality decides to remove the monument Azerbaijan will suspend its diplomatic relations, close the Embassy and stop 4 billion dollar investment" which according to him "will be shameful for Mexicans".
Mukhtarov charged that the government of Armenia, with which Azerbaijan has tense relations, and local Armenians were behind the campaign to remove Aliyev's statue.
"We are aware that the current situation was driven by the Armenian government and the Armenian local diaspora in an attempt to discredit the work, life and dedication of Azerbaijan's national leader," Mukhtarov said a news conference.
Azerbaijan paid as much as $10 million to erect the statue, clean up the section of park where it sits and make similar repairs at a second site downtown.
The commission of three writers and analysts appointed by the city government said authorities erred by accepting money to allow a foreign government to essentially decide which political figures or historic events should be commemorated in the capital's public spaces.
"In view of the majority opinions of the citizens and neighbors, the sculpture of Heydar Aliyev should be removed from the emblematic spot" on the Reforma boulevard, commission member Guillermo Osorno said.
The panel suggested that a citizen board be set up to review such proposals in the future.
Protesters have said they are offended by a monument to an authoritarian figure like Aliyev, who led Azerbaijan first as Communist Party boss during Soviet times and then as president from 1993 until his death in 2003.
Critics' anger has been amplified by a plaque on Aliyev's statue that describes him as "a brilliant example of infinite devotion to the motherland, loyal to the universal ideals of world peace" and by the location of the statue not far from monuments to Mahatma Gandhi, Abraham Lincoln and Mexico's national heroes.