YEREVAN — The Francophonie summit of the world community of French-speaking countries has kicked off in Yerevan, with France's President Emmanuel Macron, Canadian Prime Minister Justin Trudeau and the leaders of three dozen other French-speaking nations attending.
The two-day summit, also attended by government delegations from over 40 other states, is the largest international forum ever held in Yerevan. It highlights what the Armenian government has described as Armenia's "privileged relationship" with France.
"I and all Armenian people are happy to host in Yerevan the 17th summit of the heads of Francophone states and governments. Welcome to Armenia!" Prime Minister Nikol Pashinian said in his opening speech, delivered in French.
"Armenia is a young member of the Francophonie … and yet there is no need to prove its commitment to promoting cultural and linguistic diversity and fundamental values of the French language and the Francophonie," he said. Those values include respect for democracy and human rights, added the Armenian leader.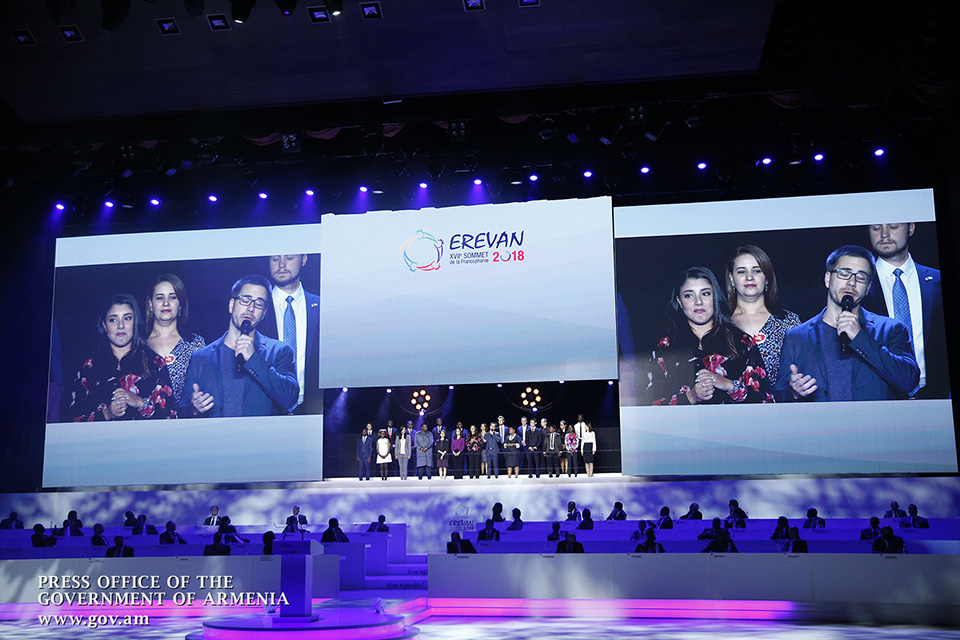 Macron also addressed the summit, describing the Francophonie nations as a global and diverse "family" that can contribute to international peace which he said is under growing threat.
"We do not have the same skin color, our gods do not bear the same names and some of us do not believe in God," he said. "We also live in very different climate zones and our songs are not similar. Our histories do not originate from the same sources and there have been many wounds between us which are only now starting to heal."
"Yet strangely enough, this diverse family is united around a single language … That language does not belong to anyone, it belongs to all of us," declared Macron.
"The Francophonie Organization is an arena where states can listen to each other, and the country is a full member of the arena – be it a 99 million or 9 million population country", Canada's Prime Minister Justin Trudeau said in his remarks.
"Together we were able to create a dimension where we are guided with mutual respect, where our states can develop, listen to each other, and all this in French language," he said. "We must unite not only around our speeches, but also the future which we want to build. This summit is taking place at a very important time. We are obliged to reconsider our Living Together slogan, because we can overcome challenges only in the dimension of the Living Together slogan," he said.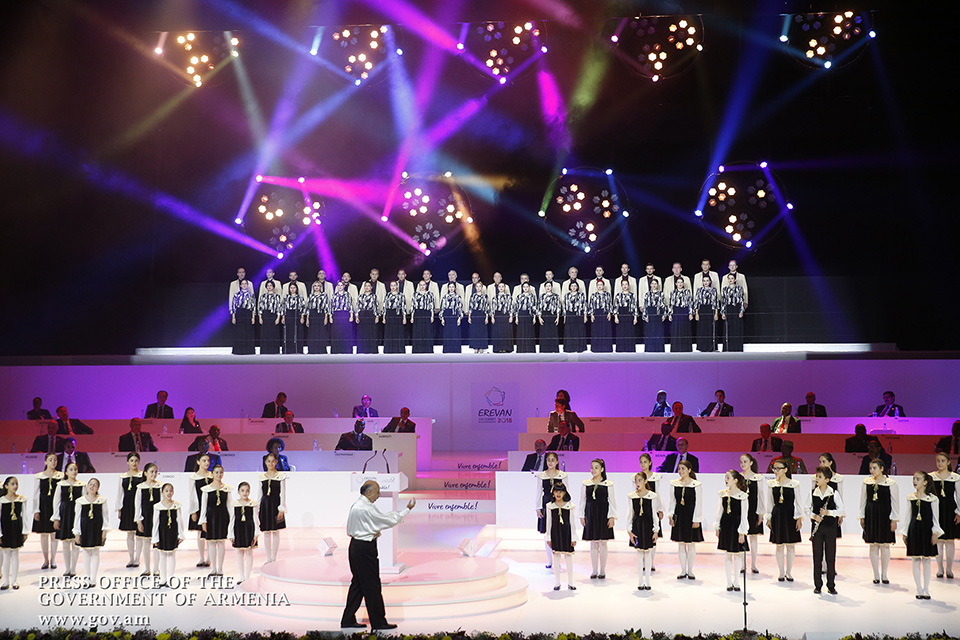 Created in 1970, the Francophonie brings together 85 states and governments, many of them in Africa, representing 274 million French speakers, according to the organization. Its primary mission is to promote the French language as an international language, as well as cultural and linguistic diversity in the world. As many as 38 countries are represented by their president or prime minister at the Yerevan summit.
Armenia joined the organization in 2004. France is home to an estimated 500,000 ethnic Armenians, and sizable Armenian communities also live in Belgium, Switzerland, Canada, and other Francophone countries.
Armenia and Moldova are the only former Soviet republics among the Francophonie's 54 full members. The three Baltic states, Georgia and Ukraine have an observer status in the organization.
58 Member States and Governments:
Albania, Principality of Andorra, Armenia, Kingdom of Belgium, French Community of Belgium, Benin, Bulgaria, Burkina Faso, Burundi, Cambodia, Cameroon, Canada, Canada-New-Brunswick, Canada-Quebec, Cape Verde, Central African Republic, Chad, Comoros, Congo, Cyprus, Democratic Republic of the Congo, Djibouti, Dominica, Egypt, Equatorial Guinea, France, Gabon, Ghana, Greece, Guinea, Guinea-Bissau, Haiti, Ivory Coast, Laos, Lebanon, Luxembourg, former Yugoslav Republic of Macedonia, Madagascar, Mali, Morocco, Mauritius, Mauritania, Moldova, Monaco, Niger, New-Caledonia, Qatar, Romania, Rwanda, Saint Lucia, Säo Tomé and Principe, Senegal, Seychelles, Switzerland, Togo, Tunisia, Vanuatu, Vietnam.
26 Observers:
Argentina, Austria, Bosnia and Herzegovina, Canada-Ontario, South Korea, Costa Rica, Croatia, Czech Republic, Dominican Republic, Estonia, Georgia, Hungary, Kosovo, Latvia, Lithuania, Mexico, Montenegro, Mozambique, Poland, Serbia, Slovakia, Slovenia, Thailand, Ukraine, United Arab Emirates, Uruguay.