YEREVAN (RFE/RL) — The Armenian parliament failed to elect opposition leader Nikol Pashinian prime minister on Tuesday despite his warnings about continued unrest in the country.
Pashinian was backed by only 45 members of the 105-seat National Assembly following a lengthy and heated debate on his bid to succeed Serzh Sarkisian as premier. He needed at least 53 votes.
Fifty-five other lawmakers representing Sarkisian's Republican Party of Armenia (HHK) voted against him in line with a decision announced by the HHK leadership shortly before the vote. HHK leaders said during the debate that Pashinian is not fit to govern the country. They also pointed to his lack of government experience and questioned his ability to serve as commander-in-chief of Armenia's armed forces.
Several HHK deputies also pointed Pashinian's past harsh criticisms of Armenia's membership in the Russian-led Eurasian Economic Union and the Collective Security Treaty Organization (CSTO). They claimed that Armenia could find itself at odds with Russia if he comes to power.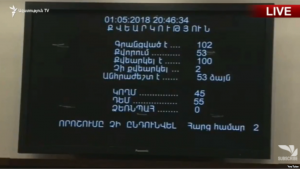 Vahram Baghdasarian, the HHK's parliamentary leader, claimed that Pashinian's tenure would be fraught with "destructive consequences" and "fateful dangers" for the country. He also said that Sarkisian's resignation on April 23 was a sufficient response to the massive street protests launched by Pashinian.
"I hoped to hear a conceptual speech by a candidate for prime minister but I witnessed a speech that only flattered people's ears and was not based on a program," said Eduard Sharmazanov, a deputy parliament speaker. "Mr. Pashinian, you didn't convince me. I don't see you as commander-in-chief."
Pashinian tried in vain to win over at least some members of the HHK majority when he twice gave speeches in the parliament and answered questions from over two dozen lawmakers. In the end, only HHK deputy, Felix Tsolakian, voted for him.
Voting for Pashinian were deputies affiliated with the opposition Yelk alliance, Gagik Tsarukian's bloc and the Armenian Revolutionary Federation (Dashnaktsutyun). One of Dashnaktsutyun's seven deputies, Aghvan Vartanian, refused to back the opposition candidate, however, defying a decision made by his party. Vartanian said he is ready to resign from the parliament as a result.
Pashinian warned before the vote that the parliament's failure to choose him as prime minister would mean that the ruling party has "destroyed itself at once and irreversibly." He also said that the full victory of his popular movement is inevitable.
"A force declaring a war on its own people cannot exist and what we are seeing is not the HHK or its parliamentary faction but a ghost," he said. He strongly condemned HHK claims that his premiership would hurt Russian-Armenian ties and increase the risk of a war with Azerbaijan. Pashinian warned Ruling Party           MPs of a "political tsunami" if they did not back him.
The parliament vote came as tens of thousands of Pashinian supporters again rallied in Yerevan's Republic Square. The opposition leader joined them later in the evening.
The vote result means that the parliament will have to meet again on May 8 for another debate on the next prime minister. Under the Armenian constitution, the legislature will be automatically disbanded and fresh elections will be called if it again fails to choose a premier.
After the vote, Pashinian urged tens of thousands of supporters gathered in the Republic square in Yerevan to begin a campaign of civil disobedience.
He called for a general strike to be launched on Wednesday morning, with roads, railways and airports blocked.