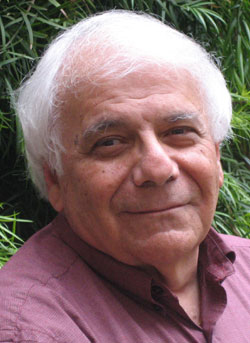 SAN DIEGO, CA — A milestone recording of excerpts from George Kirazian's version of The Divine Liturgy of the Armenian Apostolic Church has been released on iTunes, Amazon and CD Baby.
The recording was made in Yerevan, Armenia in September, 2017, by the award-winning Paros Chamber Choir, conducted by Raffi Mikaelian. In July, selections had been performed live by Paros at the Komitas Institute in Yerevan.
Although most of the Choir's members have a disability and sing from a seated position, their voices rise far above any such limitations. Under Maestro Raffi Mikaelian, the group has developed into a world-class Chamber Choir.
Composer George Kirazian, also a published author and 40-year veteran instructor of literature and music, is based in San Diego and has been a leader in the Armenian American community for decades. His version of The Divine Liturgy ("Badarak") is the result of 12 years' work and a lifetime's dedication to Armenian Sacred Music. His long-held goal for his version of the Badarak was to have it recorded in the homeland by Armenian vocalists. This recording makes that vision a reality.
Kirazian's compositions of art songs, classical instrumental pieces and sacred choral music, have been performed across the U.S. and abroad. His version of the Badarak was also recorded in full on double-CD by the Pacific Camerata in 2008.
"The Divine Liturgy (Holy 'Badarak'), in one sense, is a divine dialogue," Kirazian writes, "and its subject is the Eternal Glory of God. In the various versions that have been sung for generations, the praise of the Choir is a humble vocal offering that is heartfelt and deeply moving to all who hear it. Each Sunday, in Armenian Churches throughout the world, our Divine Liturgy enables the entire congregation to grow spiritually, to move closer to the Light."
It is Kirazian's hope that Armenian church choirs around the world will sing and be blessed by this version of the Badarak, which features melodies that are both modern and inspired by Armenian sacred music tradition.
The Paros Chamber Choir was founded in 1993 and performs a wide repertoire of music, including songs by accomplished Armenian, Russian and American composers. Since its inception, the group has been honored in several international competitions and has truly become a beacon ("Paros" in Armenian) for The Armenian Nation. Most of the Paros Chamber Choir's members have physical disabilities and sing from a seated position, but their voices rise far above any such limitations.
Raffi Mikaelian is an award-winning conductor in Armenia, born in Kuwait and raised in Lebanon. He is a graduate of the Yerevan State Conservatory in Choral Conducting. Under his baton, the Paros Chamber Choir has won numerous medals and awards worldwide. Mr. Mikaelian has conducted all three major orchestras in Armenia, as well as orchestras in Ireland and Russia, and has worked with artists such as Placido Domingo, Jeffrey Douma, Davit Karapetyan and musicians of the San Diego Symphony Orchestra.
Proceeds from the sale of this album will be donated to the Paros Chamber Choir, to support their musical outreach.