GLENDALE — Over 300 Glendale residents attended two community meetings held by the City of Glendale to present its plan for a new and improved Central Park campus that includes the future downtown site of the Armenian American Museum. An overwhelming number of the attendees expressed support for the new design and the location of the Armenian American Museum.
The community meetings were led by Gerdo Aquino with SWA Group, an urban design firm hired by the City of Glendale to reimagine Central Park. The proposed design positions the Armenian American Museum in the southwest section of Central Park near the prominent corner of Colorado Street and Brand Boulevard. The Central Park redesign will expand the open space from its current 76,000 sq. ft. to over 92,000 sq. ft. and will transform the park into a vibrant focal center and community gathering place.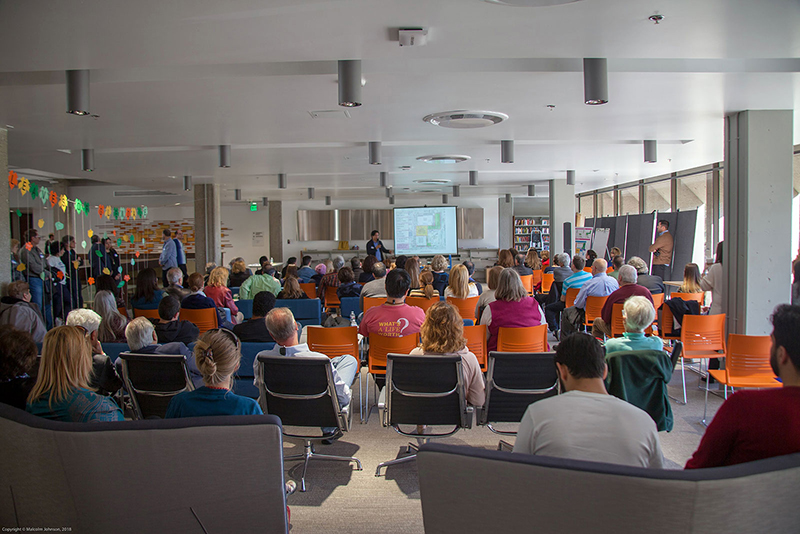 "We were pleased with the strong turnout of residents who expressed their enthusiasm and support for the future of the Armenian American Museum and Central Park," stated Armenian American Museum Executive Committee Chairman Berdj Karapetian.
Following the presentation, attendees had the opportunity to visit interactive stations to learn more about the details of the plan and provide feedback on the proposal.
"I'm so excited for us to have the Armenian American Museum with a bigger and better Central Park that has even more open space," said a young attendee during the community meeting.
"The Armenian American Museum is a beautiful idea," wrote a Glendale resident at one of the interactive stations.
"We need a modern cultural center in Glendale," wrote another Glendale resident.
The Armenian American Museum plans to host additional community meetings in the coming weeks. The feedback from the community meetings will help shape the upcoming Museum and Central Park plans to be presented to the Glendale City Council for final approval.
For more information about the Armenian American Museum, visit www.ArmenianAmericanMuseum.org or call (844) 586-4626.
About Armenian American Museum
The Armenian American Museum is a developing project in Glendale, CA with a mission to promote understanding and appreciation of America's ethnic and cultural diversity by sharing the Armenian American experience. When completed, it will serve as a cultural campus that enriches the community, educates the public on the Armenian American story, and empowers individuals to embrace cultural diversity and speak out against prejudice.
The governing board of the Armenian American Museum consists of representatives from the following ten Armenian American institutions and organizations: Armenian Catholic Eparchy, Armenian Cultural Foundation, Armenian Evangelical Union of North America, Armenian General Benevolent Union – Western District, Armenian Missionary Association of America, Armenian Relief Society – Western USA, Nor Or Charitable Foundation, Nor Serount Cultural Association, Western Diocese of the Armenian Church of North America, and Western Prelacy of the Armenian Apostolic Church.