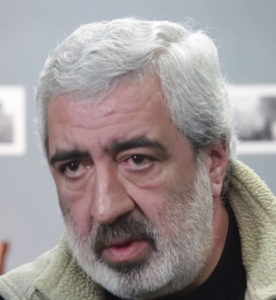 GLENDALE — Visiting author from Armenia, Tigran Paskevichyan will present the third documentary of his "Coming Full Circle" series titled, "The Last Dream or Game Over" with a screening of the film followed by a conversation in Armenian with journalist AnI Duzdabanyan-mManoukian on Friday, November 10, 2017 at 7:30pm at Abril Bookstore – 415 E. Broadway, Glendale, CA. Admission is free with reception to follow. Reserved priority seating available at http://www.itsmyseat.com/abrilbooks
The Last Dream or Game Over (62 min.) is the 3rd documentary of Versus Studio's "Coming Full Circle" project. Based on interviews with eyewitnesses of repatriation conducted in Armenia, US, France, Russia and Lebanon, newsreels, photos, and numerous historical documents, The Last Dream or Game Over bears witness to the lived experiences of the repatriates beyond the Iron Curtain.
Enthusiastic about their return to the Fatherland (Soviet Armenia), repatriates often experienced exclusion and persecutions during the Cold War in the subsequent periods of Stalinism, the Khrushchev thaw and the Brezhnev stagnation. After Stalin's death, when the spirit of relative freedom was lingering in the air, many repatriates from moreover 10 countries, were doing everything possible to leave the boundaries of USSR. Their intention was not to leave for the countries they were born or have lived part of their lives, but they were striving to have a Western kind of lifestyle. It was a direct response to the pressures and inconveniences they have faced in soviet reality. Despite the numerous obstacles created by the authorities and bureaucracy, in the 1960-80s tens of thousands of repatriates left Soviet Armenia, taking with them many locals. They believed that they would find freedom and better life conditions in the West.
Tigran Paskevichyan, an Armenian poet, journalist and script writer, was born in 1965 in Yerevan. In 1984-1988 he studied philology in Yerevan State University. Tigran has been working in journalism and film production for more than 30 years. Paskevichyan is the author of 20 documentaries, two poetry books and one collection of prose. Since 2004-2013 he has been a columnist in several Armenian printed and online newspapers. Since 2009 till now Tigran is the editor-in-chief of Versus Studio and since 2010 initiator and manager of the "Coming Full Circle" project, within the framework of which 3 documentaries were produced, an exhibition was organized and a book was published. With the team of Versus Studio and Factum NGO he has founded the website www.hayrenadardz.org , which contains hundreds of documents on Great Repatriation, as well as over 70 interviews with eyewitnesses of these events.
Presented by Abril Bookstore.