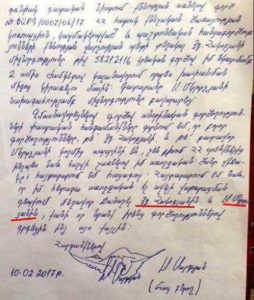 YEREVAN (Arminfo.am) — "Food Bringer" Arthur Sargsian, who died on March 16, said in a note that judge A. Mkrtchian and Ed. Hakobian, deputy head of the Special Investigative Service division of corruption, organized and official crimes, forced him with their actions to go on hunger strike.
In his death note, Sargsian said that Ed. Hakobian's petition on choosing arrest as a measure of restraint against him without taking into account his grave health condition was illegal. So, judge A. Mkrtchian's decision to satisfy that petition also ran counter to Armenian legislation. "In this light, I am going on hunger strike. I also state that if my health condition deteriorates, Hakobian and Mkrtchian will bear the responsibility for that, because they forced me to do that with their actions," Sargsian stressed.
The 49-year-old Arthur Sargsian died at a Yerevan hospital on Thursday hours after undergoing urgent bowel surgery there. He was set free on bail on March 6 following a 25-day hunger strike.
Sargsian drove his car through a police cordon to deliver food to armed members of the Founding Parliament radical opposition group during their two-week standoff with security forces, which left three police officers dead. He surrendered to them on July 31 along with the remaining gunmen holed up in a police compound.
Sargsian was released from custody in late December but was again arrested on February 9. A law-enforcement body investigating the standoff said he ignored a summons sent by then. Sargsian began a hunger strike immediately after his second arrest.