Deputy Defense Minister Davit Tonoyan (R) meets with Dragana Rankovic, head of the Yerevan office of the International Committee of the Red Cross (ICRC)
YEREVAN — Armenia offered to free an Azerbaijani prisoner of war on Thursday as it continued trying to secure the release of an Armenian soldier who was captured by Azerbaijani troops near Nagorno-Karabakh last week.
Deputy Defense Minister Davit Tonoyan said that Firuz Farajev, an Azerbaijani soldier who crossed into Armenia a year ago, has "changed his mind and expressed a desire to return to Azerbaijan."
To that end, Farajev has requested an "urgent meeting" with representatives of international humanitarian agencies, Tonoyan told the head of the Yerevan office of the International Committee of the Red Cross (ICRC), Dragana Rankovic. He said the Armenian Defense Ministry therefore hopes that ICRC representatives will visit the POW in custody, according to a ministry statement.
Farajev was detained by Armenian troops at a western section of Armenia's border with Azerbaijan in July 2012. The Armenian Defense Ministry said at the time that the 20-year-old deliberately surrendered to its forces.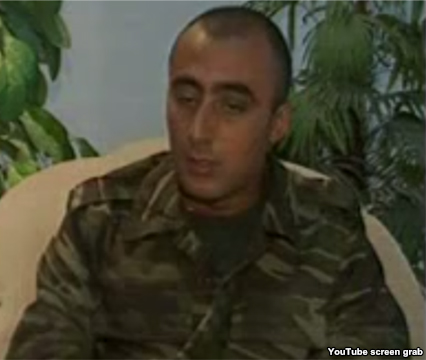 The ministry spokesman, Artsrun Hovannisian, admitted that Tonoyan's statement amounted to an offer to exchange Farajev for Hakob Injighulian, an Armenian soldier who crossed the "line of contact" east of Karabakh in still unclear circumstances last week. "The Armenian side is ready to bring back its citizen at any cost," Hovannisian told RFE/RL's Armenian service (Azatutyun.am).
The Armenian military insists that Injighulian accidentally strayed into Azerbaijani-controlled territory. But earlier this week, Injighulian was paraded on Azerbaijani television saying that he defected to the Azerbaijani side after being assaulted by one of his commanders.
The Armenian military dismissed that statement, saying that the 22-year-old was forced to present a false version of events. It also condemned the televised appearance as a violation of international conventions on the treatment of POWs.
In a statement issued on Wednesday, an Armenian government commission dealing with POWs and missing persons argued that the conventions forbid any public exposure of captured enemy soldiers. It also decried the fact that Injighulian was made to wear an Azerbaijani military uniform.
The commission further expressed concern at the ICRC's failure to visit to Injighulian in custody so far. It pointed to the fate of two Armenian captives who died in Azerbaijan in 2008 and 2010 before being able to meet Red Cross representatives.
The ICRC also faced criticism from Injighulian's relatives demonstrating outside its Yerevan office. "We will stay here until the Red Cross tells us why it has still not visited my boy," the POW's father, Gevorg Injighulian, told RFE/RL's Armenian service (Azatutyun.am).
The Defense Ministry statement quoted Rankovic as assuring Tonoyan that ICRC representatives in Baku believe that they will soon be given access to the Armenian soldier.