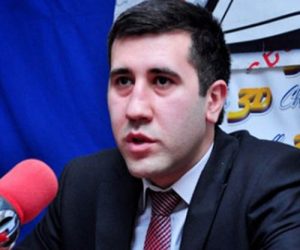 STEPANAKERT (Armradio) — Human Rights Defender of the Nagorno Karabakh Republic Ruben Melikyan published today the second interim report on the atrocities by Azerbaijan during the 2016 April war.
The findings of the report are alarming for the international community, in particular the international human rights community.
"The systemic and grave violations of the International Humanitarian Law in April 2016 by the Azerbaijani armed forces still require proper actions from the respective international human rights organizations, as a matter of concern for the whole international community," the report says.
"In the early morning hours of April 2, 2016 the Azerbaijani armed forces launched a thoroughly planned large-scale offensive along the entire line of contact between NKDA and Azerbaijani AF, deploying tanks, attack ruben-melikyan-press-conferencehelicopters, heavy artillery, rocket launchers (including 220mm TOS-1 Heavy Flamethrower System Solntsepyok, and 300mm Smerch Multiple Rocket Launchers), and unmanned combat aerial vehicles (including IAI Harop). The Azerbaijani surprise and unprovoked offensive was the largest and bloodiest breach of the cease-fire regime installed in 1994 through a trilateral agreement between NKR, Armenia and Azerbaijan. The active phase of the armed conflict lasted until 12pm on April 5, when by active interference of the international community the cease-fire regime of 1994 was restored," the report reminds.
"The report considers three war crimes committed by Azerbaijani AF against NKR combatants and civilians: torture, execution (violence to life) and mutilation of dead bodies," Ombudsman Ruben Melikyan told a press conference in Talish today. According to him, "all three actions are war crimes under International Humanitarian Law.
The facts of torture, execution, and mutilation documented in the report are established on the basis of forensic expertise reports (and photographs attached to them), as well as, in some cases, collaborating evidence (such as witness interviews, the analysis of pictures and videos published by the Azerbaijani users).
Click here for the full report.