YEREVAN — On the 35th anniversary of the massacre of Armenians in Sumgait, President Vahagn Khachaturyan, Prime Minister Nikol PAshinyan, , Speaker of the National Assembly Alen Simonyan, other high-ranking officials, visited the Tsitsernakaberd Memorial in Yerevan to pay tribute to the memory of the victims of the massacre, the parliament's press service said in a press release.
The top leadership placed a wreath and flowers at the cross-stones commemorating the victims of the Armenians who were killed in the pogroms organized by the Azerbaijani authorities in the cities of Sumgait, Kirovabad and Baku.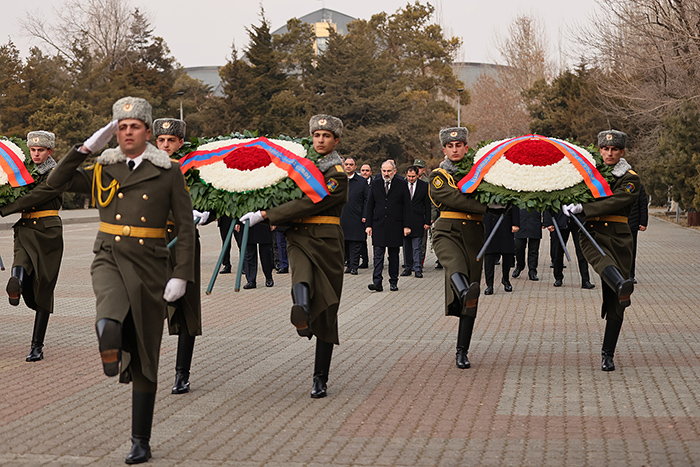 "Bowing to the memory of the innocent victims of the tragedy in Sumgait, we should, more than ever, demonstrate our invincible will to protect the inviolable rights of our compatriots of Artsakh to live peacefully and prosperously in their ancient homeland", President Vahagn Khachaturyan said in a statement.
"Our compatriots in Artsakh stood to defend their inalienable rights to live in their thousand-year Motherland in peace and safety. Unfortunately, 35 years after the tragedy in Sumgait, the Armenians in Artsakh are once again at the crossroads of defending their right to live in their home, in their Motherland". President Khachaturyan stated.
"We should unite our potential and courage for the sake of our citizens, for the sake of a safe and peaceful future for our generations," the President added.
The Sumgait massacre (pogrom) took place during the early stages of the Artsakh movement. On February 27, 1988, mobs of ethnic Azerbaijanis attacked and killed Armenians on the streets and in their apartments; widespread looting and a general lack of concern from police officers allowed the violence to continue for three days.
On February 28, a small contingent of Ministry of Internal Affairs (MVD) troops entered the city and unsuccessfully attempted to quell the rioting. More professional military units entered with tanks and armored personnel vehicles one day later. Government forces imposed a martial law and curfew and brought the crisis to an end.