GYUMRI (Combined Sources) — World-renowned pianist Tigran Hamasian, who is originally from the city of Gyumri, has joined a campaign initiated by an activist in the Northern Armenian city to buy apartments to some of the families who continue to live in makeshift housing more than 27 years after their homes were destroyed in a powerful quake.
Hayk Barseghian, a filmmaker and photographer, initiated SOS Gyumri Project campaign last month to raise money through the help of Diaspora Armenian benefactors and just ordinary people in order to buy apartments for Gyumri's 13 homeless families living in extremely bad conditions. He has set the goal of raising about $175,000 within a couple of months to buy homes to 13 families who now live in domiks deprived of all conveniences.
On January 19, his photos appeared in the British crowdfunder.co.uk site, where the fundraising kicked off.
The campaign has so far raised about $40,000, but unless the goal is met by a deadline, the money pledged by the donors will be returned to them.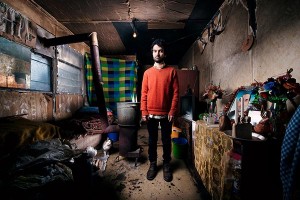 Despite promises of the authorities to provide all families who lost their homes in the deadly 1988 earthquake with new residences, more than 3,000 households are still officially homeless in the country's second largest city, living in temporary lodgings known as domiks.
To boost the campaign, Hamasian, a 28-year-old award-winning jazz pianist famous far beyond Armenia, traveled to his native Gyumri on Saturday to give an open-air concert in support of the cause.
He says he originally planned to play inside one of the makeshift houses, but eventually ended up having an outdoor concert in front of an audience of over a thousand listeners, some of whom had come also from other areas of Armenia.
"It's a shame that people still live in these conditions," Hamasian said, hoping that the crowd funding campaign will eventually achieve its goal. "It's a terrible feeling that one cannot describe with words. I feel ashamed as a man who comes from this town."
Hamasian's concert helped raise some money for the cause immediately, with Barseghian hoping that the campaign will manage to meet the target by March 20.
"Tigran Hamasian and Hayk Barseghian tried to draw the world community's attention to this issue. They want to show that there are still areas like this in the 21st century, and there are people who live in such conditions," said Hamasian's producer.
The project has drawn international media attention too. As Barseghian wrote on his Facebook account, BBC reporters had contacted them and said they would come to Armenia and make a documentary on the SOS Gyumri team's work on this project.