YEREVAN (RFE/RL) — Almost two in three Armenians believe that their government is not doing enough to tackle corruption, according to an opinion poll released by Armenia's leading anti-graft watchdog on Wednesday.
The poll was conducted by Transparency International's Armenian affiliate, the Anti-Corruption Center (ACC), early this year as part of the Berlin-headquartered organization's latest survey of corrupt practices in Europe and Central Asia.
It found that 65 percent of those polled in Armenia are skeptical about the Armenian government's stated efforts to combat bribery, nepotism and conflicts of interest. Just over two-thirds of them also admitted that they will not alert relevant authorities in case of witnessing instances of corruption. Forty-one percent feared government retribution for doing that.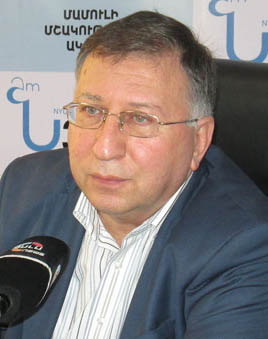 "People think that crying foul over corruption is alien to our society," said Varuzhan Hoktanian, the ACC's director for programs.
Armenia ranked 95th out of 168 countries that were evaluated in Transparency International's 2015 Corruption Perceptions Index (CPI). Its position in the annual rankings has barely changed over the past decade despite successive Armenian governments' pledges to fight against graft.
Former Prime Minister Hovik Abrahamian repeatedly pledged to step up that fight during his tenure that came to an end in September. A new Anti-Corruption Council formed by Abrahamian's cabinet adopted a three-year plan of anti-corruption measures last year. The U.S. Agency for International Development allocated $750,000 for the plan's implementation.
Richard Mills, the U.S. ambassador in Yerevan, said on Wednesday that the Armenian authorities have taken "really positive steps" to address the problem in earnest. He said that combatting corruption is essential for improving Armenia's business environment.
Hoktanian insisted, however, that he does not see major progress in the authorities' declared anti-corruption drive. "If the ambassador has seen change under this prime minister, maybe he is more informed than us, I don't know," he told reporters. "I, as an ordinary citizen, don't see [such change] yet."
Armenia's newly reshuffled cabinet described corruption as "the biggest obstacle to the development of the state" in its policy program approved by parliament last month. The program says that the government will criminalize "illegal enrichment" of state officials and introduce new legislation on conflicts of interest.
Meeting with top European diplomats in Yerevan late last week, Prime Minister Karen Karapetian said that he sees "no other way to develop the country but to combat corruption and the shadow economy in all directions." Karapetian also said that he will try to get civil society representatives to join the Anti-Corruption Council.