GYUMRI –In addition to a broad range of infrastructure projects, the Hayastan All-Armenian Fund implements several social-assistance programs in Armenia and Artsakh. One such initiative is the Gyumri Housing Project, as a result of which 26 homeless families in Gyumri now live in apartments in the city's Mush and Ani neighborhoods. The apartments are fully renovated and furnished, and feature a full complement of modern amenities and comforts, including appliances.
The Gyumri Housing Project was launched by Armenia Fund US Western Region in 2014, through a special Telethon held in collaboration with ARTN Shant TV of Los Angeles. The apartments were purchased, renovated, and furnished with proceeds from the 2014 and 2015 special Telethons. The grassroots support raised by these Telethons has been complemented by major contributions from individual benefactors including Antranig Baghdassarian, Vahe Karapetian, Haro and Diana Jordan, Haig Keledjian, Zakar Chaghatzbanian, Dr. Harout Mesrobian, Doctors Vrage and Svetlana Minassian, and Samvel Balasanyan.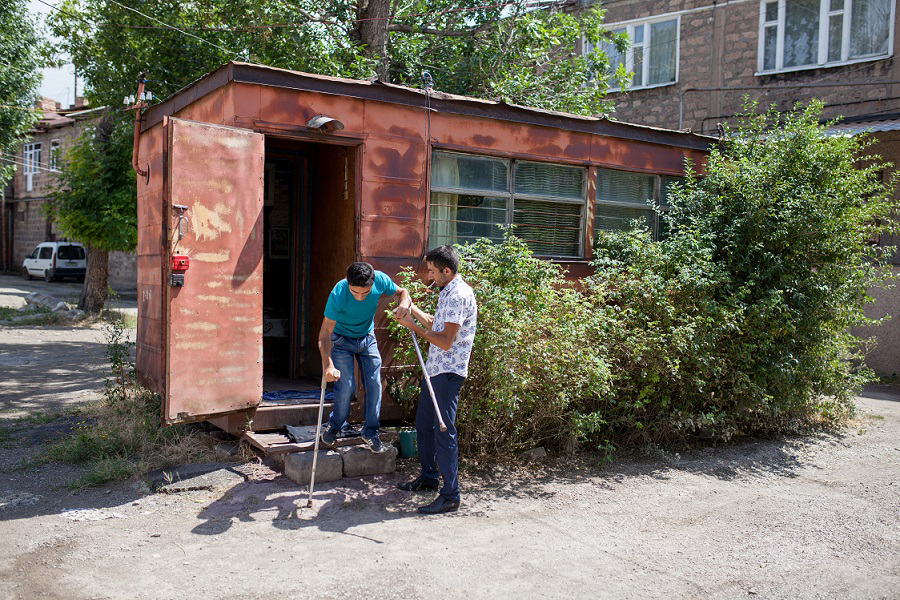 The joint Armenia Fund US Western Region-ARTN Shant TV Telethons have made it possible to provide apartments to 22 homeless families. They include the families of Karen Khachatryan, Hovhannes Badoyan, Arsen Khachatryan, Davit Hovsepyan, Shoghik Shaboyan, Yeranuhi Safaryan, Shoghik Antonyan, Goharik Gomktsyan, Natalya Struk, Anna Melkonyan, Arusyak Barseghyan, Roza Erzrumyan, Tereza Bedishova, Anahit Martirosyan, Rima Petrosyan, Aida Stepanyan, Liana Muradyan, Stella Mkrtchyan, Zhenya Grigoryan, Fenya Sahakyan, Ruzanna Yeghoyan, and Nelly Chakhchyan. Soon one more family will be presented with an apartment. The next special Telethon is slated for 2017.
Additionally, ever since 2014, the Hayastan All-Armenian Fund's German affiliate has been allocating its local proceeds from the annual Pan-European Phoneathon to the Gyumri Housing Project. To date, donations from the German-Armenian community have enabled the Hayastan All-Armenian Fund to provide apartments to four Gyumri families: those of Artur Galstyan, Anahit Sukiasyan, Anna Sargsyan, and Ruzanna Yeghogyan.
Ara Vardanyan, the executive director of the Hayastan All-Armenian Fund, said that in selecting beneficiaries of the Gyumri Housing Project, priority is given to young, destitute families with multiple children.