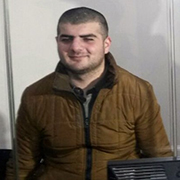 BAKU — Representatives of the International Committee of the Red Cross (ICRC) have visited the Armenian serviceman, who was captured by the Azerbaijani soldiers in Aghdam district after trespassing the line of contact. Mediated by the ICRC representatives, Baghdasaryan and his family exchanged information.
A citizen of Nagorno Karabakh Arsen Baghdasaryan was captured in December of 2014. In 2015, an Azerbaijani court sentenced Baghdasaryan to 15 years imprisonment, with charges of attempting sabotage operations.
The Defense Ministry of Nagorno Karabakh has denied the reports and stated that Baghdasaryan – being a contractual serviceman of the NKR Defense Army – has regularly been absent without official leave (AWOL), leaving his permanent deployment location, for which he was temporarily suspended from service.